Are you waking up each morning excited for the day ahead?
Are you inspired by your life? Do you experience joy, gratitude and laughter OR do you feel stuck? Maybe you aren't depressed or sad but you aren't happy either.
Whatever your reason for landing on this site, THANK YOU FOR BEING HERE!
It takes COURAGE to create change, especially when you don't know where to begin.
This book will help you create a happier, more fulfilling and authentic life! I dramatically changed my life for the better, and I'm thrilled to share my journey and the steps I took to find mySELF with YOU.
If YOU aren't HAPPY, I understand how you feel.
I know exactly what it feels like to go from months and years of dark depression, high anxiety and deep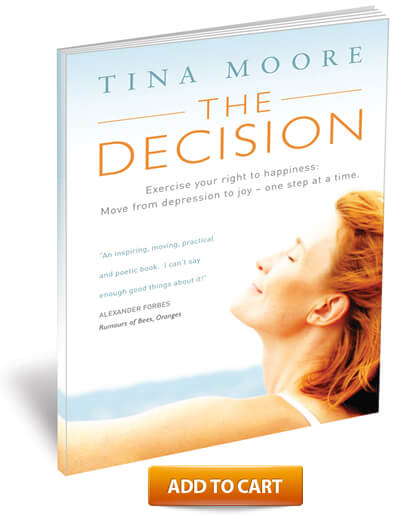 emotional pain to now sustaining JOY and GRATITUDE. Even in the wake of money or work related stress, I now have the skills to manage my anxiety and depression and YOU will too!
When I turned 39, I realized I did not want to enter my 40's living my life with the same dysfunctional patterns and toxic relationships. I made the DECISION to do whatever was necessary to change my life. Once I discovered the key to mySELF, my life completely changed! I now have a strong sense of who I am and what I want in my life. This is the GIFT I want you to embrace.
I offer my personal experience and intimate story with the intention that it will INSPIRE, MOTIVATE and MOVE you to get healthy: physically, emotionally and mentally for your own personal reasons.
I am busy and need to use my time wisely; I'm guessing you are the same so this is a simple, easy to use book.
"The Decision" will give you:
Simple steps to improve your physical, mental, emotional and spiritual well-being.
Information on how to sustain JOY and HAPPINESS even in the wake of money, relationship or work related stress.
Steps on how to develop emotional strength by living AUTHENTICALLY.
Tips on how to stay MOTIVATED and INSPIRED.
A deep sense of SELF-WORTH through creating and achieving your GOALS.
EMPOWERMENT through understanding and action.
An AUTHENTIC life which includes JOY, SELF-LOVE, GRATITUDE, UNDERSTANDING, STRENGTH, COURAGE, HONESTY and INTERGRITY.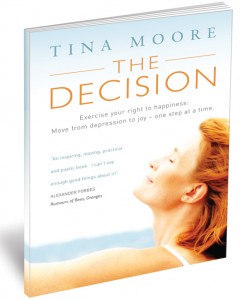 Get ready to live your best life!
"Dear Tina, O, how I loved your book! Loved it, loved it, loved it! It is at once inspiring, moving, practical, and poetic . . . I can't say enough good things about it." – Alex Forbes, "Oranges" "Rumour of Bees" "the beauty of the city in the last hour of the night"
"I've known Tina for over 25 years. When I first met her she had this youthful raw energy and was never shy to speak her mind. Underneath there seemed to be a lost soul looking for herself. One day she shared her need to change her life and make her 40′s better than her 30′s. It's truly amazing to see the transformation she's made since her 40by40 quest. She has her bounce in life once again.

I am both proud and inspired like so many others, in her commitment to her mental, emotional and physical well being. I am so happy to see her transformation sustained.

YOU WILL TRULY BENEFIT BY PURCHASING THIS BOOK, BEING INSPIRED AND HAVING THE STEPS TO CHANGE YOUR LIFE.

If Tina can do it, so can you!"

Kelly Smith
Silver Medalist Marathon
2004 Athens Paralympics
Do you want to live AUTHENTICALLY?
Do you seek JOY, LOVE and INSPIRATION? Yes! We all want to lead an authentic life but how do you achieve balance and truly take care of your own needs when you have a family, career, aging parents, debt and a to-do list that never ends?
I will show you how to find that balance. I will explain the steps I took to lift my depression, build my self-esteem and tap into my instinct to create a life full of joy and gratitude.
An authentic life is a happy life and by staying true to core values and honoring your instinct YOU can wake up each morning feeling INSPIRED. It is totally achievable.
Here are some questions to ask yourself:
Why are you settling for less in your life?
Are you tired of putting everyone's needs ahead of your own?
Are you listening to yourSELF or are you ignoring your inner voice?
Do you think you deserve a happy, fulfilling and joyful life?
"Tina, through this website and your story – your journey – you are going to touch so many people!! You are a blessing and an inspiration to so many!!" ~ Melisa Chymko
"You are truly a role model for me…the way you live your life is inspirational." ~ Tamara Schoenhals
Are you ready to live your best life?
This book is written from a very sacred place – a place of honesty, authenticity and my deepest truth. I am passionate about sharing what I've learned so others can experience this shift in their life. I didn't know life could be this good and now that I've experienced it, I want YOU to experience it too.
Because I speak from such an intimate place, I believe this book will resonate with you. When it resonates with you, you will seek change because you've been shown another way to live.
LISTEN TO YOUR INSTINCT FOR IT WILL GUIDE YOU TO YOUR GREATEST LIFE. YOUR GREATEST LIFE IS AN AUTHENTIC LIFE.
Dream BIG.
Challenge FEARS.
Empower yourSELF.
YOU ARE NOT DEFINED BY YOUR CIRCUMSTANCES; YOU ARE DEFINED BY YOUR CHOICES.
CHOOSE YOU.
Invest in yourSELF! Order the eBook or Audio now for just $9.95