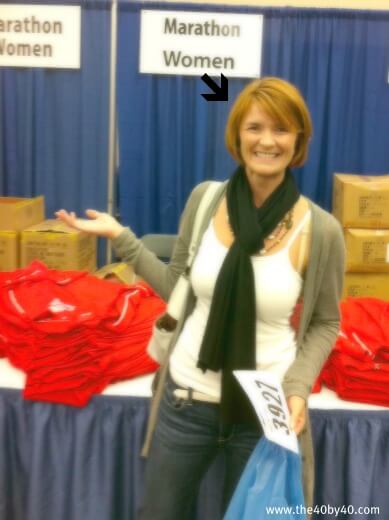 When your BODY isn't allowed to exercise due to injury or illness, your MIND starts to become over active instead.
For the past 5 or 6 weeks I have not been able to exercise due to pleurisy. Prior to that, I was only jogging about once a week because of a bad cold so this has been an 8 week endeavour with little or no exercise.
On the weekend, I started to put on my awesome red 'marathon' shirt, the one I earned for participating (running my buns off) in the full marathon in October when I came to a screeching halt.
The negative voice inside my head said:
"You don't deserve to wear that."
I immediately went to the mirror so I could look myself in the eye and cried:
"THAT'S A HORRIBLE THING TO SAY. I RAN A FULL MARATHON! 42 KILOMETERS! I HAVE EVERY RIGHT TO WEAR THIS SHIRT. SHUT UP AND QUIT BEING SO MEAN!!!!!!!!!!"
Then I got mad.
How DARE you make me feel anything less than PROUD, JOYFUL and HAPPY about running my marathon!
How DARE you try and put me down, make me feel ashamed and bad about mySELF.
That run was a year in the making with the training and commitment.
That run was an incredible day in my life and I'll be damned if I let some small, insignificant, stupid negative voice in MY head ruin it.
SCREW YOU NEGATIVITY!

(Cheers and applause)
Because I haven't had exercise for my stress and anxiety (an outlet to process negative thoughts and emotions), I haven't been feeling well and my sense of SELF has been compromised as a result, the negative voice saw an opportunity.
Although my ACTIONS were to give my body good, nutritious food, plenty of sleep and limit any cause of stress, my THOUGHTS were sabotaging any good I was doing.
It was a critical moment.
I cried. I ranted. I sat in my sadness for a couple of hours and then I changed my thoughts.
Is it as simple as that?
No, first I had to make THE DECISION to change my thoughts…it always comes down to that truth.
I had to get mySELF back into EMOTIONAL SHAPE.
If your doctor has advised you NOT to exercise for a certain amount of time, you must keep track of your thoughts. Negativity isn't going to help you get better. Negative thoughts create a steady stream of difficulty that you are then forced to push through.
Stop the stream from its source: YOUR HEAD.
Replace mean, negative and untrue thoughts with positive, loving, kind and honest thoughts. Nurture yourSELF with compassion! You would never say those things to your family or friends, please do not say them to yourSELF.
Exercise your mind with kindness if you can't work your body with exercise.
Nurture. Love. Respect.
Wishing you a kind and loving weekend my friends!
With a smile,
Tina