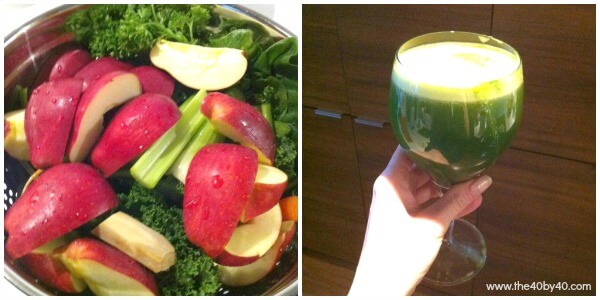 I love my juicer. In this particular photo I juiced kale, apples, celery, parsley, fresh ginger, spinach, carrots and cucumber. This is a regular occurrence in my kitchen and I literally feel my body get happy after drinking it.
When a friend suggested I watch the film "Food Matters" I decided to take a look, having disregarded the film in the past thinking:
"Eh, I eat really well, I don't need to watch that."
EVERYONE NEEDS TO WATCH THIS FILM.
It's fascinating and thought-provoking. They cover a lot of areas but what really interested me was the correlation between nutrition and MENTAL HEALTH.
In the documentary, Charlotte Gerson, from the Gerson Institute talks about the depletion of our soils. If our soils are deficient, then the food we eat is deficient, making our bodies deficient.
Andrew W. Saul PhD speaks a lot about VITAMIN SUPPLEMENTS. In the beginning he talks about prescription drugs for various illnesses and disease stating:
In ONE YEAR, 106,000 people in the USA die from prescription drug side effects that are EXPECTED (stated on the bottle). These numbers do not include misuse.

In 23 years that equates to 2.4 million deaths due to subscribed prescription drugs.
He then states the deaths from vitamins:
10 deaths alleged to be caused by vitamins in 23 years.
Hmmm, why are we so afraid to increase the amount of our vitamin supplements, especially if our food is deficient?
But there is speculation; for example, how can Vitamin C be good for all of the following:
Anti toxin
Anti histamine
Anti viral
Blood sugar regulation
Helps elevate mood in people that are DEPRESSED
They reply the reason the vitamin can help cure or avoid so many illnesses is because a deficiency of one vitamin can cause many illnesses.
Another very interesting point:
We think it's the VITAMIN that does the healing but in actuality the vitamin is aiding the BODY to HEAL itself.
Bill W., founder of Alcoholics Anonymous suffered with DEPRESSION. He went to see Dr. Abram Hoffer who suggested he take 3000 mg of Niacin (Vitamin B3). Bill W followed his advice and as a result his depression lifted.
A woman in her 50's sat in the corner with severe depression completely uncommunicative with her family. She was seeing a psychiatrist and was on various medications but her family wanted to investigate NUTRITIONAL THERAPY. They gave her 11,500 mg of Niacin and it completely changed this woman's life. The family went back to the psychiatrist who said:
"That much Niacin could be harmful."
The family stopped giving it to her and she ended up back in the corner as before.
Safety of Niacin? Apparently, not one death has been linked to Niacin / year.
Psychiatry, counselling etc is obviously important but you can't get anywhere if the brain is hungry, starved or poisoned. It must be nourished.
I decided to look up Orthomolecular psychiatry and this paragraph stuck out for me:
"The proper functioning of the mind is known to require the presence in the brain of molecules of many different substances. For example, mental disease, usually associated with physical disease, results from a low concentration in the brain of any one of the following vitamins: thiamine (B1), nicotinic acid or nicotinamide (B3), pyridoxine (B6), cyanocobalamin (B12), biotin (H), ascorbic acid (C), and folic acid. There is evidence that mental function and behavior are also affected by changes in the concentration in the brain of any of a number of other substances that are normally present, such as L(+)-glutamic acid, uric acid, and gamma-aminobutyric acid (6)." ~ Linus Pauling PhD
I have visited people in the hospital due to mental health reasons and we all know hospital food is abysmal so the nutritional value is minimal if not, dare I say, toxic. People are not receiving the BRAIN FOOD they need to get better. It's a huge issue. They are given a supplement but in low doses.
The film suggests there is far more evidence of harm from leading a sedentary life, eating processed, fried, fatty food and ingesting drugs and chemicals than incorporating exercise and eating raw, nutritious fruits and vegetables, ingesting 'super foods' and increasing your vitamin supplements.
BOTTOM LINE:
YOU MUST MAKE YOUR MENTAL AND EMOTIONAL HEALTH A PRIORITY.
YOU HAVE A RIGHT TO SELF CARE AND SELF HELP. YOUR HEALTH IS YOUR BUSINESS.
YOU ARE NOT POWERLESS NOR ARE YOU A VICTIM.
EDUCATE YOURSELF AND CHOOSE WISELY.
TAKE RESPONSIBILITY FOR YOUR OWN HEALTH.
I am not suggesting you stop taking your medication and start eating more carrots. Do some reading; ask your doctor questions; go to a nutritionist; join a fitness group, take up yoga, look into holistic methods; take an interest in your body, your mind and your health.
I believe mental and emotional wellness requires a whole spectrum of things, not just one or two.
Our bodies are complicated and they come with a lot of questions but I also think they come with answers.
Have a fabulous long weekend and I will see you on Tuesday!
With a smile,
Tina
PS. I watched the film on Netflix.