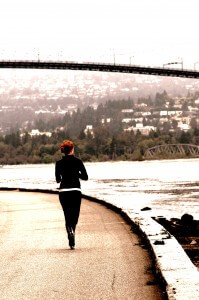 Tina's Favorite Facebook Status:
"Ouch, ouch, Ouch, ouch, Ouch, ouch…just my butt talking to itself."
Best Response To That Status:
"Talking or just making wise cracks?"
Tina's Quote Of The Week:
"I am pushing myself, challenging myself and realizing how strong I am, inside and out. That is an awesome feeling for someone who always felt less than, weak or insignificant"
This week I was introduced to Melanie Burgon – Holistic Nutritionist. I am very excited to work with her to find the balance of WHEN to eat, WHAT to eat, HOW MUCH to eat in relation to my training schedule. I have found food to be a very difficult element of training so I am grateful for the help.
Here are some of my journal entries from this week, for some reason there was an 'ass' association…just my AP (alternate personality) coming out to play.
Friday, October 15, 2010 – CROSS TRAINING
Dear Tina,
This is your butt speaking. We would like to inform you that we are not happy with you right now. We are in a little pain here, a bit of discomfort and we are not impressed. Please inform us when you are going to take us on another journey to hell. Thank you.
Dear Butt:
Tell it to the hand.
Dear Tina:
The hand flipped me the bird. We really are losing respect for you.
My Dear Butt:
With all due respect, if you had been working as hard as you could have prior to today, you probably wouldn't be feeling such discomfort. We are all working together here; try to keep up. If you have a problem with it, talk to Jody.
Dear Tina:
FINE! We WILL talk to Jody!
Great, now Jody's going to know that I'm just talking outta my ass…
October 16, 2010 – HIKE THE HILLS
The right side of my body is tight and 'ouchy'. It's nothing I can't stretch out, but I woke up this morning certainly noticing it. It's amazing to me that a lunge or hold can make that much impact on your muscles. My little demon doesn't want to go for a hike today. "Sorry, little demon, no rest for the wicked".
October 17, 2010 – 8K JOG (Jog 10 min/Walk 1 min)
Well, that was an interesting run. My butt was SCREAMING,
"How am I ever going to get up this hill?! I still have 5 more minutes and I'm totally exhausted."
I let out this yell of anger and frustration:
"AAAAAAAAAAHHHHRRRRG!!"
It's funny; the hill was so much easier after that.
October 19, 2010 – 6K (Jog 10 min/Walk 1 min)
It's 6:53 a.m., I set my alarm for 6:15 and then pushed the snooze button for a ½ hour…I use my cell phone as my alarm, and it has this cheerful ring tone. I hated that ring tone this morning…
Later today:
Well, it was a beautiful morning, sunny and much warmer than I'd anticipated. I have to say, as much as I bitch and whine and complain…and as hard as it is sometimes to get out of bed or to do those cross training exercises or push myself up a hill…
I LOVE THE CHALLENGE.
I LOVE HOW IT MAKES ME FEEL PHYSICALLY AND MENTALLY.
I LOVE ACHIEVING THE SMALLER GOALS, WHICH LEAD TO THE BIGGER GOAL.
I LOVE THE STRESS RELEASE
I LOVE FEELING INDIVIDUAL MUSCLES, KNOWING THEY ARE WORKING
I LOVE THE INTENSITY, THE CLARITY AND THE WILL TO SUCCEED.
OMG, I just had a thought…I hope the nutritionist doesn't tell me I can't have butter…or Chai….we'll have to negotiate
October 20, 2010 – CROSS TRAINING
It's amazing how quickly morning comes. I feel like I just went to bed, but here it is 7 hours later and I'm in darkness trying to wake up so I can do some exercises.
Met with Melanie, the nutritionist. This was my favorite quote,
"You're an athlete."
I LOVE that. If you think of something that you never ever thought you'd ever hear someone say to you, and then it happens in real life…"You are an athlete." Wow. I honestly never in my wildest dreams thought I'd ever be called that. I know I'm training but I don't see myself as "athlete". It's really cool that someone else does!