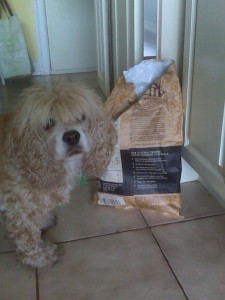 Tina's Words Of Wisdom:
Do NOT buy bags of chips that are bigger than your head (or your dog). It's just a bad idea.
Quote Of The Week:
"Give me a body that firemen will fight over."
Top Three (yes, only three) Reasons I Like Cross Training:
I can cross train in a push up bra
I can cross train inside when it's cold and miserable outside.
It's tough but I can feel it making me stronger and I love that.
Training for a full marathon is going to be a challenge. Thursday blogs will focus on the process of what I have to do to get there. It will also be a time when my AP comes out to play (Alternate Personality). She's the little demon inside that whines and complains and likes to sabotage. She's going down!
Here are portions of actual journal entries from the past week based on my training schedule. These have not been altered in any way. This is the real deal:
October 7, 2010
I have to say this morning I only cursed Jody, my beautiful, lovely trainer once and that was towards the end of the run when my calf let me know it was tired.
"Hey Tina! We're a little sore down here, can you walk a little?"
"Sorry guys, tell it to Jody."
Ah, yes, now JODY will be in charge of the little demon inside of me…the one that whines, bitches, complains and finds every excuse in the book to try to stop…JODY will have to deal with her, not me! MWA-HA-HA….
But in all honesty, I was surprised that the first ¾ of the run (ratio of run 10 minutes walk 1 minute) was actually pretty easy, the last ¼ I had to push a little….and yes, I said, "a little". I wasn't killing myself, but Lord, ask the little demon and she'd tell you it was hell.
October 8, 2010
Today was my first cross training day with Jody and it wasn't bad. I actually laughed quite a bit and realized that although I am a thousand times stronger than I was 2 years ago, I am not as strong as I thought I was. Jody was fantastic. Although she is my friend, I was a little concerned that maybe she'd morph into some sort of horrible character when she took on her role as trainer and that I wasn't going to like her anymore, thus creating a year of hell and losing a friend….ok, maybe not that bad but I was curious how this would work. I like to have fun, joke around and be a little nutty and although we laughed and had fun, she kept me on target and she certainly pushed me. Oh! I should mention, she asked what my fitness goals are and obviously the marathon is my main goal however I added,
"Give me a body that firemen will fight over"
I'll let you know how that goes….
October 10, 2010
So, there I am starting my jog and I'm quite honestly feeling tired, sluggish and don't really want to do it. I understand that I have to and I also know I'll feel better once I start. I had to go up a hill and normally when I approach that hill if I haven't had a good rest before, I tend to take my walk break early. I couldn't do that this time around because I had 3 more minutes of running so I pushed myself up, sucking wind…but I did it!
And do you know why?
Because I don't want to stray from my training schedule and I want to be honest when I write on my blog. Cheating isn't an option. YOU KEEP ME ACCOUNTABLE. It's hard, today wasn't easy but boy, I can't tell you how great it feels to push through it, and find yourself at the other end. It shows strength of character, strength in your body and the will to succeed. It's an accomplishment. It's 9:00 a.m. and I feel like I've already accomplished something today, I love that!
October 12, 2010
Here's what I don't like about cross training:
PUSH UPS. They suck! If you want to hear strange grunting and full on trucker swearing, come to my house when I'm doing push ups.
October 13, 2010
I woke up at 6:00 a.m. this morning…it's tough when I didn't sleep well the night before…going to do a 7k jog this morning…the 10/1 is challenging…my mind is trying to put a block up around it…already whining and I'm still sitting here in my housecoat…amazing.
If I hadn't gone jogging this morning this is what I would have missed:
The sky turning from navy blue, to pink
The orange and pink sun shining bright and full
The ocean as smooth as glass
Ducks cutting through the glass, leaving an etched V behind them
A seagull catching a fish
My dog gleefully chasing after crows which are far smarter than her and just fly out of her reach, making me laugh every time.
A Mom and her two young daughters jogging along the seawall, all laughing
So many blessings before 9:00 a.m. in the morning and I would have missed it all if I hadn't been out there. Thank you jogging.