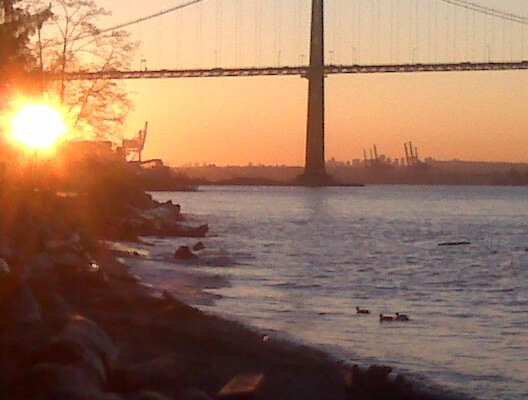 Tina's Favorite Quote:
The winter darkness will not hide my light – no matter how cold and dark it may be!
Tina's Wish List:
I want a treadmill more than high heel shoes. That means, I really want a treadmill.
Tina's Confession:
I have been negligent in my training this week…I took time off due to snow, laziness and my hip and back bugging me…but if I'm truthful, mostly laziness. It's cold, it's snowy and I wanted to sleep in, so I did.
November 19, 2010 – CROSS TRAIN AND 6K JOG (Jog 10 min/walk 1 min)
It was crappy weather but really I was just being a wimp because once I got out there it wasn't that bad. I had a 70 year old man give me a big smile and thumbs up as I passed him…those are the moments that keep you going.
November 20, 2010 – REST
November 21, 2010 – 11K ON SCHEDULE BUT I DID CROSS TRAINING INSTEAD
It's snowing again and I am not prepared. I don't have winter boots or Yak Trax (those gripper things for my runners) and I have to renew my license so I can't drive until Monday. I will be missing my 11k jog today and I'm choked. I will cross train this morning and get my license tomorrow and then hopefully do the 11k on Tuesday. Arg. I'm frustrated that I can't do it today.
I want a treadmill. Really bad. If I had a treadmill snow, sleet, rain, or any other disaster, natural or otherwise wouldn't stop me from training.
November 22, 2010 – CROSS TRAIN
November 23, 2010 – 6K JOG WITH HILLS
As I was driving my car to get my license renewed I saw an elderly man, in his late 60's early 70's, jogging along the street and I was humbled. Really Tina? You can't jog and he can? I was ashamed of myself. I've been procrastinating and the cold won't kill me. Might not be pleasant, but I'll survive it.
12:10 pm
Well, I ran 6k in minus 6 weather. In honesty, it was an incredibly beautiful morning. The sun was huge and a deep orange. If I wasn't standing outside in the cold, you would think it was the summertime. It was stunning.
I won't say the jog was easy. I won't say it was excruciatingly difficult either. It was a run where my legs never really warmed up. I felt tight the entire jog even though I stretched. The air was cold but it wasn't as bad as I was expecting. And that's the key isn't it? "What I was expecting". I was expecting my face to freeze up, snot to run from my nose, and the wind to slice me in half. I expected my hands to be numb and my feet to fall off. Really, in my head, I was in the artic running from polar bears.
In truth, my hands were toasty warm and my toes were a little cold and starting to go numb but really the rest of my body was ok. I think the hardest part was the stiffness in my legs. I felt like I was the tin man with no oil in sight…
November 24, 2010 – SLEPT IN SO THIS IS A DAY OF REST
Well, here's the truth. I have strayed from my training schedule a bit. I have not done my long run this week, which I was suppose to do on Sunday. There was snow, there was the issue that I didn't have my license, my hip was bugging me, blah blah blah. Ok, legitimate I suppose but really,
"NO OPTION TO FAIL" means, "I really don't give a sh** what you are telling yourself, get out there and run!"
Sigh, it's true, no excuse is really worth a hill of beans when I'm jogging that marathon and trying to make my time.
4:45 pm
I just came back from Ocean Wellness and seeing my chiropractor, Benita. I am so blessed to have supportive, loving people in my life. It's small things, big things, kindness, compassion and encouragement that keep me going.
I have been negligent in my training this week…I took today off due to snow, laziness and my hip and back bugging me…but if I'm truthful, mostly laziness. It's cold, it's snowy and I wanted to sleep in, so I did.
I tell you to keep myself ACCOUNTABLE and also to show you that I AM NOT A MACHINE. I AM NOT PERFECT. I falter all the time…some days worse than others…but, I recognize it, and move forward from it. I don't allow it to keep me down.
NO OPTION TO FAIL
No option to fail this marathon. No option to fail my trainer, Jody from Leapfit, my friends and family who are doing this with me.
NO OPTION TO FAIL MYSELF.