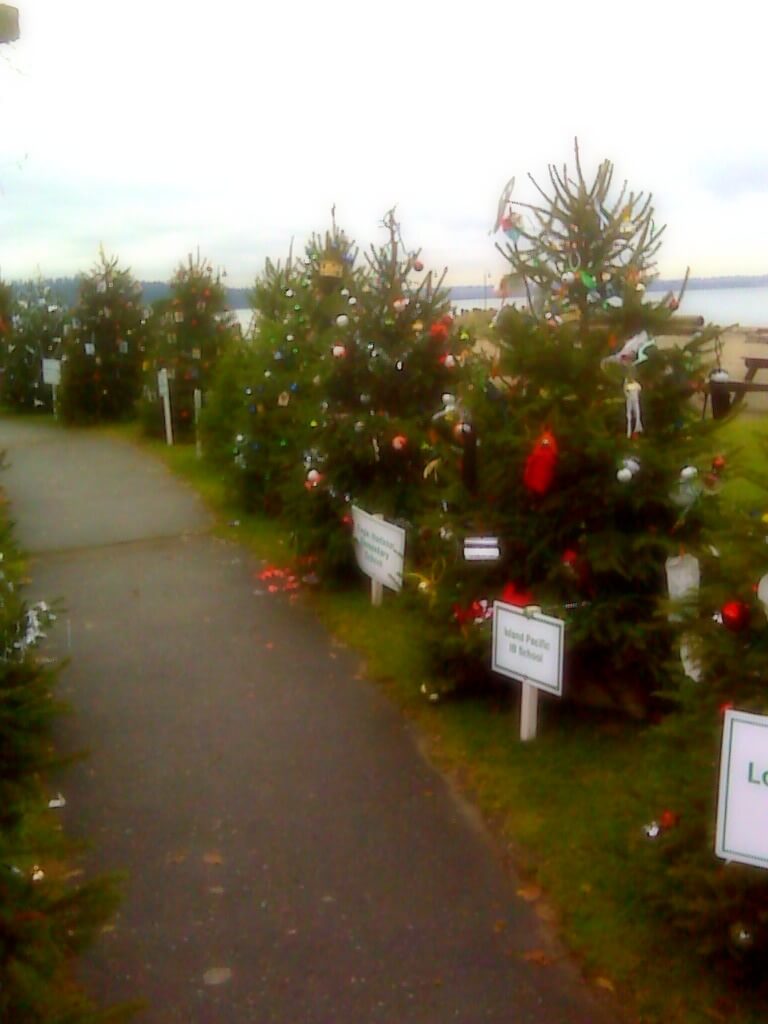 I am starting this blog slightly different from previous Jog Blogs. I was running yesterday through these trees and saw a sign that said, "Honor a life" and I thought I'd write around a similar theme.
HONOR YOUR LIFE
It's December and life is going to get busy. It's going to be stressful, and time will seem too short. It's the month where you can struggle with sadness, loneliness, high stress due to money or expectations and a lack of sleep. There is more eating and drinking and less balance in life.
HONOR YOUR LIFE
This is the time to rest if you need it. Incorporate some exercise and fresh air to help you deal with stress. I can tell you from experience, that you will feel better and more energized afterwards. Manage expectations and don't over do it.
HONOR YOUR LIFE
Honor your body by making healthy eating choices. Absolutely enjoy some of the fantastic food and sweets but ultimately eat fresh and healthy food to fuel your body.
Don't drink too much alcohol. It's a time to be social but remember when you have drinks the night before it also affects the next day.
Get enough sleep so you will be more present to your loved ones.
Honor your choices. If you decide that dinner at your house three nights in a row is too much, say so. It's ok; others can step in.
HONOR YOUR LIFE
Take the time necessary to care for your needs and you will be more available to others.
Tina's Emotion of the Week:
Gratitude
Tina's Favorite Quote After An Awesome Jog:
This is when I look my best – after jogging and after an orgasm.
(My friend almost ran off the road after that comment tee hee)
Tina's Favorite Songs For Cross Training:
November 25, 2010 – SHOVELING SNOW
It's snowing like crazy. I have been shoveling all day. I did NOT go to the gym today as planned. I had to make the choice of shoveling the driveway and keeping it clear over working out. I'm hard on myself right now because I feel like I'm letting my training be the last priority rather than the first priority and I don't like that one bit.
November 26, 2010 – REST
My training schedule is all out of whack with the snow this week and not getting to the gym. I have cross trained but I haven't got my jogs or distance in. It's tough but I have to plan for stuff like this. I'm frustrated but also working towards a solution…a treadmill. I'm hoping Santa sees my wish list and sends me one…one must still believe in dreams, magic and the gift of love.
November 27, 2010 – 6.5K JOG (10 min jog/1 min walk)
I wanted to run outside but the track wasn't open and I wasn't secure in jogging with my shoe grips yet. I went to the gym instead. That's the first time I've been on a treadmill in a long time. I really like it. It's great for propelling you forward when you feel tired, and I really like cranking up the speed at the very end and giving it all I got. I'm tired, but it's a good, happy tired.
November 28, 2010 – 8.5K JOG (8.5 min jog/1.5 min walk)
My training schedule says to jog 12K today but I was invited to jog with the Kamloops Run Club so I took advantage of that awesome opportunity. I spoke to my trainer, Jody about it, and she was excited for me as I don't jog with other people very often. I met Jo and the group at 8:30 a.m. and they had a little warm up and talk. I LOVED it. Jo has awesome energy and she really cares about each individual in the group. The energy, support, love and kindness that was in that room was truly tangible. I didn't know most of the people but I could tell that just because I was a runner that they supported me. I have to say the dancing in the beginning just totally jazzed me up so any exhaustion I felt, disappeared. I only got maybe 5 or 6 hours sleep but it was still a great jog. I LOVE hanging out with STRONG, COURAGEOUS and FUN women who I am blessed to call my friends. They have no idea how much they have impacted my life just by being themselves. I also was blessed with traction on my runners for the ice and snow and a new jacket that was given to me. I have such supportive people in my life. Thank you.
November 29, 2010 – REST
I'm exhausted…really tired, but in a good way, a happy, nurtured, loved, supported way. Feeling blessed and grateful.
November 30, 2010 – REST INSTEAD OF CROSS TRAIN
I am so exhausted. I slept in and I'm still feeling completely wiped out. I feel like I have a 'happy hangover'. It's a good feeling.
December 1, 2010 – 8K JOG (10 min jog/1 min walk)
I was excited to jog. I was tired mid jog because I'm still not planning my food properly but Melanie sent me a meal plan so I will begin implementing that. It felt good to be on the seawall, doing what I love. I also am struggling with my left hip. I can feel my back is out and my left hip is really suffering because of it. I made an appointment with Benita from Ocean Wellness so she'll put me back into place.
December has arrived so don't forget:
HONOR YOUR LIFE means you'll take care of yourself properly during this stressful season. It's about loving, sharing, giving and enjoying our many blessings. Apply that to yourself this season by eating healthy, getting sleep, incorporating exercise to manage stress and surround yourself with loving, supportive people.
With a smile
Tina