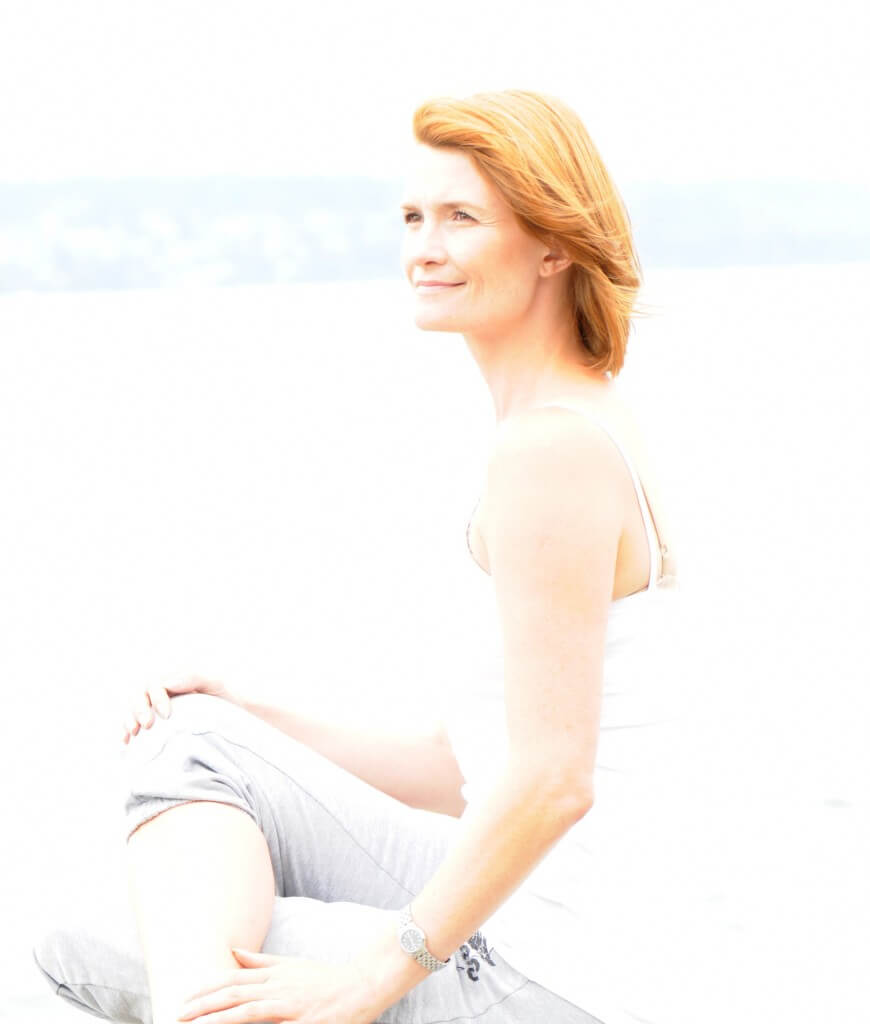 Tina's Advice To A Friend:
Take your scale and put it in the freezer. Do not take it out until October!
Tina's Moment of GRATITUDE:
I GOT A FREE TREADMILL! I am so grateful for this generous gift…and guess who found it? The fabulous Jody Kennett from Leapfit! Thanks Jody!
Tina's New Nickname:
"Bendy" – I'm very flexible as Jody found out when we were working on stretches!
A Quick Review Of My New Balance Runners From LadySport:
It's important to get new runners if you have lots of miles on your current pair. It can cause pain in your back, knees and joints. At LadySport, Brett had me try on about 10 pairs before I settled on the New Balance 760. I usually take a size 6 shoe, but these are a 6 ½. They are lightweight but have good support and a nice roomy toe area. I also love the small detail of the gripper shoelace so they don't come untied. I'm not a big fan of crazy colors on my shoes, so these are a nice, tasteful and stylish looking runner. My foot did slip a little in the heel but once I laced them tighter they were fine.
If you are looking into buying new shoes check out LadySport's guide to getting the best fit. Click HERE
January 27, 2011 – 10K JOG
I was suppose to jog 10k today but I will be honest and tell you I did not. I turned off my alarm at 5:30 in the morning, rolled over, and went back to sleep. Not happy about it but will accept it for what it is and move on.
January 28, 2011 – CROSS TRAINING WITH JODY
I am always so grateful to do a cross training session with Jody. She is FUN and KNOWLEDGEABLE. We focused on my core, not the upper abs, which she calls the 'bully' muscles but the deeper, lower and less obvious muscles, the stabilizers. As she put it to me (and I LOVE this),
"We went back to basics to build your fortress of strength from the inside out"
FORTRESS OF STRENGTH…is that not awesome or what?
She then explained:
"We are targeting your Transverse Abdominals and pelvic floor muscles along with your gluteus medius hip stabilizers. These are your two most important core muscles and all runners, walkers, and triathletes should be starting here and never stopping these exercises!"
So, although the exercises may seem easier, I can tell you they are tough if you do them CORRECTLY. To isolate those muscles you really have to take the time to set your positions and not rush the process. You have to be very aware that you've maintained your starting set position. I will do less exercises in my cross training now in order to set and stabilize, but I will be building the foundation I need to move forward to become faster, stronger and without injury.
I WILL BE A FORTRESS OF STRENGTH.
January 29, 2011 – REST
January 30, 2011 – 16K JOG (10 min run, 1 min walk)
Due to an emergency I wasn't able to run my 16k. Being there for someone I love was far more important and absolutely non negotiable. Something had to give, and in this case, jogging was less of a priority.
January 31, 2011 – REST
I definitely needed another day of rest as well as a day to stabilize my eating schedule again as I didn't eat well for the last two days. I'll be ready for tomorrow's workout with my new training schedule.
February 1, 2011 – SPEED TRAINING (Run 1K at 5:40 pace/km or 9 min mile, repeat 3x)
I ran 3.46 miles or 5.56k in my underwear today. That's right, my underwear. And do you know why? BECAUSE I HAVE A TREADMILL! There is something liberating about jogging in your underwear…I quite like it! Did I miss the firemen working out beside me? Perhaps a little, but if I get lonely I can always go visit them at the gym.
Ok, I was suppose to run one kilometer at a 5:40 pace/km repeated three times. I set the pace right but forgot the machine was in miles so I actually ran 1.6k at that pace.
I did that three times to make 5.56k, including my warm up and cool down. I feel great!
February 2, 2011 – CROSS TRAIN
I worked out for approximately 45 minutes. I did squats with and without weights. Then I did a seemingly simple one leg lift but when you set the lower core muscles, it's really difficult to lift that leg without engaging the 'bully' stomach muscles so I had to stop and reset my core after every few leg lifts. Then I did a side plank, one leg squat, side leg raise, seated cobra and normal plank. All of those exercises required the setting of the inner core muscles. If I swayed at all, or released those muscles and engaged the other ones, I had to start over and reset. I was frustrated but wanted to do it correctly rather than just get through them. It makes for less exercises per workout time, but more impact on the muscles I am trying to reach.
Don't forget to check out the 8k, half and full marathon happening in October in beautiful Victoria, BC. Click HERE for more details. This will be my 42k on my 42nd birthday so it'll be a party! Come CELEBRATE with myself and all the people who are committed to doing this run, it will be nothing but FUN! As of today, you still have 247 days to train. YOU CAN DO IT!