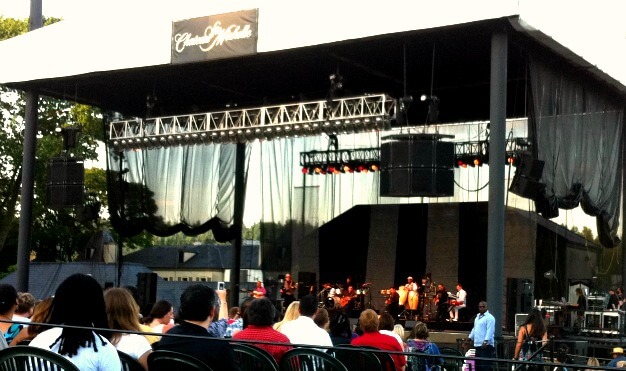 This past weekend I was fortunate to have a little getaway just past the border. Our neighbours in the United States were extremely friendly, kind and overly generous. I went down to the Seattle area to unwind, go on a date (practise makes perfect) and do a little shopping.
I also went to an amazing concert.
The Chateau Ste. Michelle is a large winery in Washington and they hold a fabulous summer concert series. It just so happened that the Gipsy Kings were playing on Sunday night and I got to go!
It was a warm, summer night and hundreds if not thousands of people arrived with their blankets, lawn chairs and picnic baskets FULL of amazing food. These people really know how to put out a spread. They had everything from Indian food to seafood, your traditional cheese, crackers and grapes to cupcakes and birthday cake. It was a happy, well prepared crowd.
Since the concert is at the winery it was lovely to sit under the sun and then into the gorgeous evening sipping wine and listening to incredible music. We sat and talked and laughed and chit chatted with the friendly people beside us. It was so much FUN!
When the music started I looked around and many people were doing as I was, bouncing around and grooving to the music. How can you not?! It's dancing music if I ever heard any.
The second set I couldn't contain myself…sometimes you have to get up and just DANCE! And that is exactly what I did. In that moment, gone are the thoughts of stress around money, work, my car, my family or my friends. Gone is any anxiety or worry or feelings of unease. All I could feel was the music and the beautiful, clear night and the pure JOY and GRATITUDE I felt for being there and dancing.
Dancing is like singing. Everyone should have the right to dance and sing out loud. Who cares if you aren't graceful or sing in tune! Be BRAVE and express yourself through music. It's a glorious way to let go and just be FREE. Moving your body gets rid of static or negative energy. It's good for you!
This past weekend was a blessing and although I came home to stress and worry I will not allow that negativity to take away my perfect weekend. It will not pass over me like a cloud and darken my mood.
As I posted on Facebook:
"How is it that I get to feel so HAPPY in the wake of such uncertainty? GRATITUDE defined."
Remember, as the Lee Ann Womak song says,
"And when you get the choice to sit it out or dance…I HOPE YOU DANCE!"
With a smile,
Tina