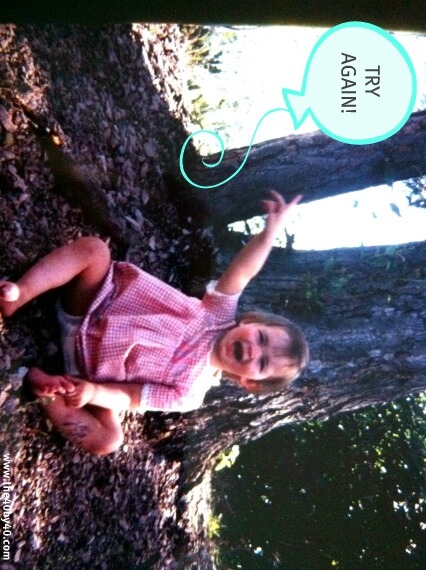 When we were children everything we did was a first:
Rolling onto our back
Rolling onto our stomach
Crawling
Clapping our hands
Our life consisted of constant REPETITION and continued DETERMINATION. Our very nature was to keep trying until we conquered the task. We didn't quit when we landed on our butts, time and time again learning how to walk. We didn't say:
"It's too hard, I can't do it! I quit!"
We got up on our wobbly, chubby legs and we tried again…and again…and again…until we weren't only walking, we were running, jumping, skipping, skating, climbing, or swimming!
We didn't understand the word fail.
Defeatism isn't part of our natural makeup.
We wouldn't survive as a society if it was so we always keep trying. We had DETERMINATION, DRIVE and a FIERCE COMMITMENT to SUCCEED.
AS KIDS WE WERE FEARLESS.
We were constantly faced with CHALLENGES and OBSTACLES but we always made the CHOICE to KEEP TRYING.
What if we applied that same innate quality of never giving up on yourSELF to our adult lives?
What if we didn't see the challenges before us as being too hard but rather as part of the process? We didn't see ourselves as failures but rather accepted that bumps, bruises and scrapes are part of the journey to learning how to succeed in life?
Can you imagine if we'd made the choice as children and decided that walking was too hard? We'll just crawl instead…talking was too difficult so we'll only use two or three word sentences? We won't learn how to tie our shoes, use a fork or pour ourselves a cup of water.
We won't LEARN. GROW. EXPAND. CHALLENGE ourselves. We won't be CURIOUS or face our FEAR.
As children we learn that life opens up when we take chances, explore opportunities and if at first you don't succeed, try, try and try again.
As adults we forget the value of challenging ourselves and only see it as something that takes too much time, is too hard or it's not a priority. We get stuck, complacent and make daily decisions that mediocracy is acceptable.
As kids we would never accept that we couldn't walk! We wanted our independence so we could explore more of the world! So we kept trying to walk until we could run!
We pushed our boundaries to discover we had no boundaries!
Walking led to running which led to dancing which led to climbing which led to wonderful, creative and exciting explorations!
Life opened up because we kept trying!
My wish for you today is that you apply for the job you've been thinking about or you take the dance class you've dreamed of but have been too shy to attend. Ask that guy out if you find him interesting or keep applying to university to get accepted as a lawyer or nurse if that's what you really want. Don't let one application stop you. Live the life you dream. Apply again. And again.
Keep your vision in focus and don't let negative thoughts, doubts or insecurities skew the life you could have.
Keep trying. Don't give up.
YOU NEVER GAVE UP ON YOURSELF AS A KID, WHY WOULD YOU START NOW? USE YOUR CHILDHOOD COURAGE TO PUSH YOU IN THE DIRECTION OF YOUR DREAMS.
DREAM BIG. DREAM OUTRAGEOUSLY.
DO IT TODAY. DO IT NOW!
With a smile,
Tina