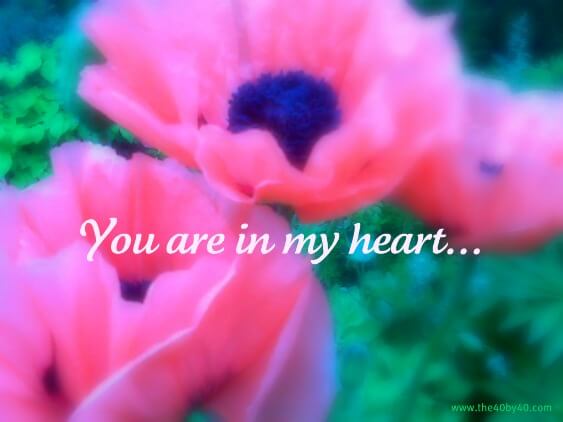 "Love is how you stay alive, even after you are gone." ~ Tuesdays with Morrie
I love that quote and believe it to be true. Over the last year, particularly the last six months I've had a large number of people I love and care about lose their loved ones to illnesses. They are missing their parent, grandparent, spouse, child, sibling or friend. My heart aches for their breaking hearts. Although I am a writer, I seem lost for words.
I haven't found the words to accurately describe the LOVE a parent has for their child and the depth of grief they feel when they are forced to say goodbye. I have not found the words to offer comfort to the ones who no longer can hold their father's hand, hear his laughter or give him a hug because his battle with cancer ended. I turn to other authors to find wisdom and grace.
"Death is not death but a recycling of energy, a remodulation of the cells according to higher assignments in a soul's progression. The spirit doesn't die, but rather enters new channels of life…our relationships are not severed at death, but refocused beyond physical connection." ~ Marianne Williamson from Illuminata
It is a comforting thought but not everyone who is grieving will feel that way.
There is no comparing grief because everyone is different.
Processing the pain, sadness, loss, longing, anger, loneliness and devastation will be as individual as we are people. Sometimes words aren't enough because the pain is too deep.
When words fail me, I offer to LISTEN.
According to Being There for Someone in Grief by Marianna Cacciatore, LISTENING is one of the most important things you can give someone: Allowing them the space and freedom to cry, figure out their feelings and talk about their loved ones without interruption.
LISTENING and TRUSTING they have the ability to HEAL is one of the greatest gifts you can give. It is an enormous expression of LOVE to allow another to just "be" wherever they are in their grief. Our reaction is to try and 'fix' them but grief isn't a scratch we can kiss better, it takes TIME, PATIENCE and LOVE.
It's not comfortable, it's awkward and the feeling of helplessness is one we have to deal with in order to help them heal.
"Sometimes the purpose of a day is to merely feel our sadness, knowing that as we do we allow whole layers of grief, like old skin cells, to drop off us." ~ Marianne Williamson from Everyday Grace
GIVE THEM ROOM TO HONOUR THEIR EMOTIONS.
DON'T CROWD THEM WITH YOUR EXPERIENCES, ADVICE OR EXPECTATIONS.
ALLOW THEM TO 'BE' WHEREVER THEY ARE IN THEIR GRIEF, WITHOUT TRYING TO FIX THEM.
Reach out and hold their hand, give them a hug, touch their face. Look into their eyes and really LISTEN to what they are saying.
LIFE IS PRECIOUS.
PEOPLE ARE PRECIOUS.
TIME IS PRECIOUS.
Today's post is dedicated to those who have fought a courageous battle against illness and disease and who have touched our lives with love, laughter and joy. It is also dedicated to those who are grieving and yearning for one more conversation, hug or giggle from those they miss. You are in my heart.
With a warm, loving hug,
Tina
PS. If you found this post to be helpful, please pass it along by clicking on the buttons below. If you have suggested reading material, other sources of information or personal experience, your comments are greatly appreciated. Thank you.