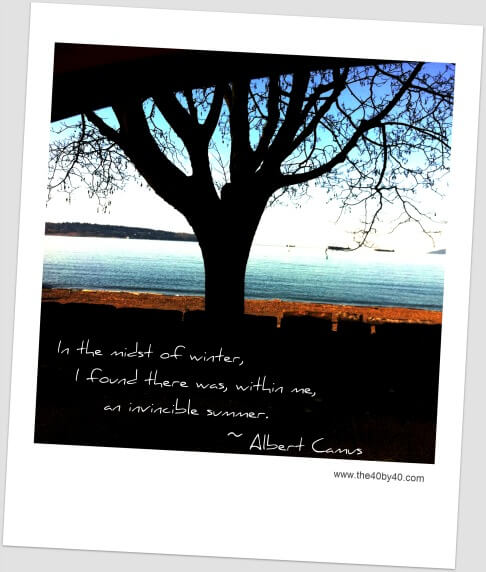 If you have changing seasons, you may be experiencing dark, long, often dreary days. After a few months it can play a role in your overall mood and energy levels.
Seasonal Affective Disorder , otherwise known as SAD, is a mood disorder triggered by the changing seasons. Often it is brought on by fall and winter seasons but people can also suffer in spring and summer. I am not a doctor; however, I did some research to give you information on this form of depression.
According to the Mayo Clinic, here are some symptoms for the winter disorder:
Depression
Hopelessness
Anxiety
Loss of energy
Heavy, "leaden" feeling in the arms or legs
Social withdrawal
Oversleeping
Loss of interest in activities you once enjoyed
Appetite changes, especially a craving for foods high in carbohydrates
Weight gain
Difficulty concentrating
Women are more likely to suffer although when men are diagnosed often their symptoms are more severe. Genetics, family history, age and your body chemistry all play a role. If you already have depression, you may find that your symptoms increase during specific months.
How do you know you have SAD?
If you generally feel good and only notice that you suffer with the symptoms during certain months, you may have SAD. There are many factors to consider so write down your symptoms in detail preferably going back over a two year period and go to your doctor.
DO NOT DIAGNOSE YOURSELF.
Once you've gone to your doctor and you are properly diagnosed, is there anything else you can do?
Your doctor may prescribe medication and / or psychotherapy. Light therapy is also a very common treatment. Is there anything else you can do to be proactive with your mental health? YES.
I love where I live; however, the heavy rain and dark, low cloud ceiling in Vancouver can get extremely depressing during this time. Because I've suffered with clinical depression and anxiety in the past, I am more susceptible to SAD.
I use EXERCISE, VITAMIN D, OMEGA 3-6-9 and FORMS OF MEDITATION.
There seems to be mixed reviews on the supplements (I notice a difference when I take them, among others) but the EXERCISE and MEDITATION (Yoga and martial arts included) seem to have consistent positive reviews.
Just twenty minutes of cardio can give you the happy ENDORPHINS. These make you feel joyful, light and energetic. Having FITNESS GOALS (Walking, running or cycling in an organized event) also boosts your confidence, gives you a social outlet and you get to celebrate when you cross that finish line! It's the best feeling!
Exercising in the morning is also an important factor. Although it may not be sunshine, any morning light you can get is helpful because your melatonin and serotonin levels get out of balance with SAD.
Bottom line: If you are unsure if you are depressed or have SAD, go to your doctor and get properly diagnosed.
EXERCISE AND HAVING FITNESS GOALS MAKES ME A HAPPIER, HOPEFUL, GRATEFUL, LOVING AND MORE CONFIDENT PERSON.
I want you to feel that too.
I know how painful it is. Please don't suffer; get some help.
Big hugs, much love and support to you.
With a smile,
Tina
PS. If you would like to read more on how I changed my life from depression and anxiety to JOY and LAUGHTER, click HERE or go to the side bar to get the first chapter of my book for FREE!