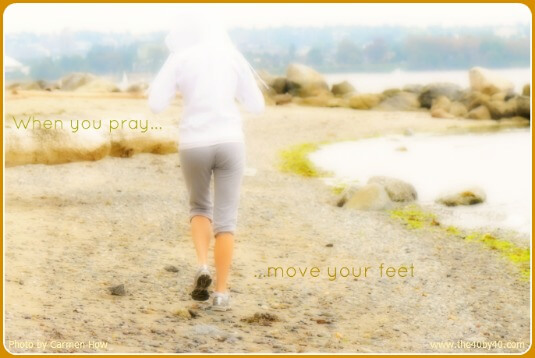 I love that African proverb but what does it mean to pray?
For me, it involves your thoughts, intention and energy. Ultimately, it is YOUR communication and connection to what YOU believe in.
The definition of prayer is:
A devout petition to or spiritual communion with God or an object of worship.
"Spiritual communion"…I like that particular phrase.
I don't think of God, spirit, universal energy or whatever you want to call it as being outside of mySELF. I think of it as being heard inside…
It's my INSTINCT, CONNECTION to SELF and that quiet, calm, loving voice that whispers WISDOM in my ear. It's the PEACE, GRATITUDE and JOY I feel when I know I am CONNECTED.
The beautiful paradox of when we connect to SELF is that we connect to others.
When you pray, move your feet.
JOGGING connects me to a wisdom I wouldn't otherwise feel connected to and helps me process my emotions, thoughts and patterns. I have fought DEPRESSION and ANXIETY by using JOGGING as a key component to my HAPPINESS.
If that isn't answering my prayers, I don't know what is!
…Even when I stop mid jog…and weep…my tears are a form of prayer…
I believe honouring yourSELF, listening to yourSELF and respecting yourSELF is a form of prayer because the core essence of who you are is LOVE, WISDOM and a powerful ENERGY beyond our comprehension.
When you pray, move your feet.
In my mind, the purpose of prayer is to gain clarity, strength, comfort, hope, wisdom, connection, love, happiness, gratitude and insight. JOGGING gives me that GIFT.
When you pray, move your feet.
Try going for a walk or jog this weekend. Connect with that loving wisdom and powerful energy. Focus on praying as you are moving. Focus on the intention behind your words. Pray and then listen. Connect to yourSELF and connect to that which you believe in.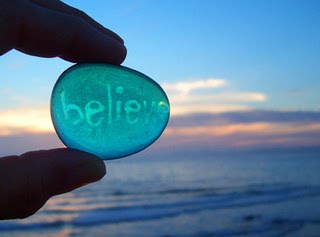 I believe in YOU.
I believe in LOVE.
I believe in listening to your INSTINCT and caring for yourSELF.
I believe in SHARING our collective consciousness and EMBRACING one another.
I believe in HUGS and the healing power of TOUCH.
I believe in the power of POSITIVE energy, POSITIVE thoughts, POSITIVE ACTIONS and a LOVING heart.
I BELIEVE IN PRAYER.
When you pray, move your feet.
Blessings to you this weekend. See you on Tuesday!
With a smile,
Tina
PS. If you want to keep connected over the weekend, check out my Facebook page or send me a message! I would love hearing from you.