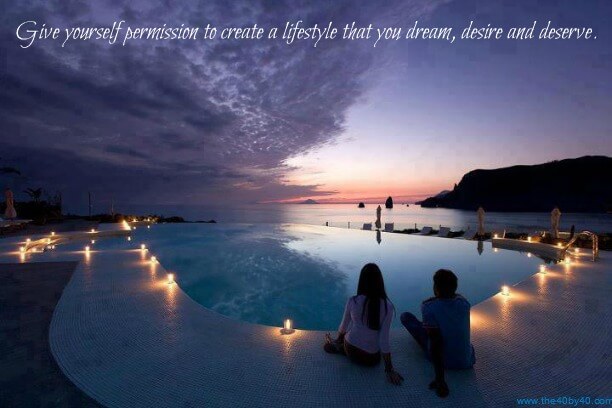 I heard some incredible stories this weekend.
The more I hear, the more I realize no one has a straight line to success. We all have twists and turns in our relationships, personal growth, physical body, career or finances. We have all been hurt and experienced some sort of loss in our lifetime. The differences amongst us are perhaps, how we deal with those twists and turns and whether we let them define our life NOW.
I've certainly had my fair share of bumps and bruises. In my 20's I read very powerful, enlightening books and went to counselling all of which may have steered me in the right direction but I unfortunately didn't have the emotional maturity or inner strength to put it into ACTION.
Today my life is different because I understand mySELF better and listen to my INSTINCT.
This weekend, the message I heard was loud and clear regarding my current goals:
HOW BADLY DO YOU WANT IT?
It's an excellent question, a life defining question.
So, I turn that question to you…
HOW BADLY DO YOU WANT IT?
How badly do you want to lose weight, run a marathon, get out of debt, change your relationship or have the freedom to go on a holiday, spend time with your kids or be able to finish reading a book?
HOW BADLY DO YOU WANT TO __________________ (INSERT YOUR GOAL)?
The next very important question is:
WHAT ARE YOU WILLING TO DO TO GET IT?
Are you really willing to cut out all processed, fast food AND limit portions AND exercise regularly in order to lose weight?
Are you really willing to cut expenses and get an additional job in order to get out of debt?
Are you really willing to go to a counsellor in order to change your relationship?
HOW IMPORTANT ARE YOUR GOALS, RELATIONSHIPS AND QUALITY OF LIFE?

HOW BADLY DO YOU WANT IT?
I think it's the kind of question that makes you think about your CHOICES and subsequent ACTIONS on a daily basis.
Everything becomes crystal clear because you begin to challenge yourself:
"I just ate a box of crackers while watching a movie; is that really conducive to my goal of losing weight and getting healthy?"

"Is being 'right' in this argument really worth the draining, negative energy and division it creates in my relationship?"

"If I purchase this lovely, finely sculptured pair of high heeled shoes is that really part of the get-out-of-debt plan?" (Admittedly, this one kills me but I do abide by my plan).
WE DEFINE OUR LIFE.
WE DECIDE HOW TO THINK AND ACT IN THE WAY OF OUR DREAMS AND GOALS.
We also decide if we are going to give up on our goals.
Obviously there are some life altering exceptions but I think most of us have the ability to follow through…unfortunately we may allow fear, other people's opinions or negativity to stop us and that is OUR CHOICE.
So, are the CHOICES you make today in line with your greater goal for yourSELF? Your family? Your relationship?
I BELIEVE IN YOU.
ALLOW YOUR LIGHT TO SHINE.
GIVE YOURSELF PERMISSION TO CREATE A LIFESTYLE THAT YOU DREAM, DESIRE AND DESERVE.
With a smile,
Tina
PS. I don't make any money from this website, so by passing on my book, "The Decision" it helps me while you can help others. Thanks for sharing!