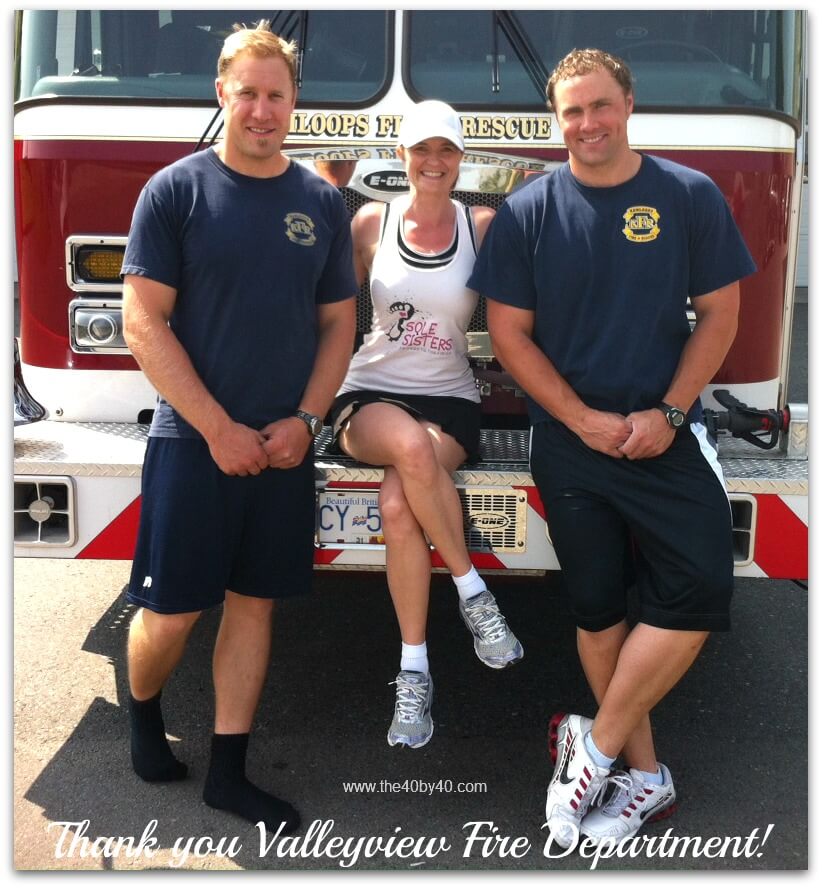 Ever had one of those weekends where you laughed, cried, felt fear and anxiety, love and gratitude and wanted to hug a fireman? It was a weekend full of emotions.
I traveled up to Kamloops, BC to sing at a friend's funeral. She was such a lovely lady…very vibrant, graceful and fun. She was 85 years old when she passed away but years ago, she'd asked me if I would sing Ave Maria at her funeral. I promised and I was honoured to keep that promise to her and her family.
There was deep sadness for the loss of a loving mother, grandmother, friend and wife. From a performing perspective, singing with the energy of loss and sadness in front of you is very difficult but from a friend perspective, the promise I made to her kept me strong and able to fulfill her wish. I left feeling the family's deep loss for the woman they loved; the core of the family.
So, how could I leave a funeral and the next day, post a Facebook status that said:
"I feel really, really, really happy and feeling the love…" ?
LOVE is what I saw, felt and experienced at the funeral.

LOVE is what I saw, felt and experienced when I was blessed to see former students, dear friends and family.

LOVE stays within the heart, flows through others and lasts past your lifetime.

LOVE is the most powerful, life changing energy in the world.
I was feeling incredible LOVE and GRATITUDE and then I had some car trouble. For some reason when my car gets 'sick', I panic. My anxiety begins to creep up and I get emotional. I love giving to others but I'm not always great at receiving…so I get emotional when I receive help. On this particular day, I was emotional for those reasons and then I happened to pass a fire hall with one of my friends.
"SHANNON!!!! FIRE TRUCK!"
She immediately did a legal U-turn and we pulled into the Valleyview Fire Department. Their beautiful, shiny red truck was outside with the proud Canadian flags. I wanted a picture. What I wasn't expecting was the incredibly KIND firemen who came outside to greet us.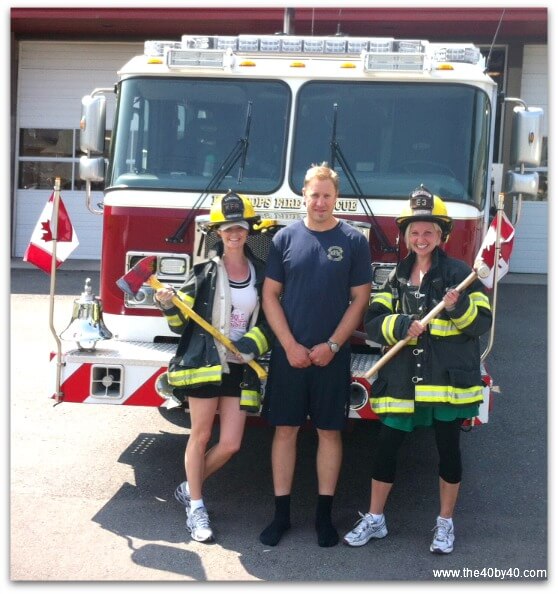 They were so kind and generous giving us information on their gear…letting us try it on…and take photos! The weight those guys carry is incredible! The jacket and hat almost pushed me into the ground…add the tank and tools and it's around 80+ pounds!
So, what is the link between a friend's funeral, faulty car and firemen?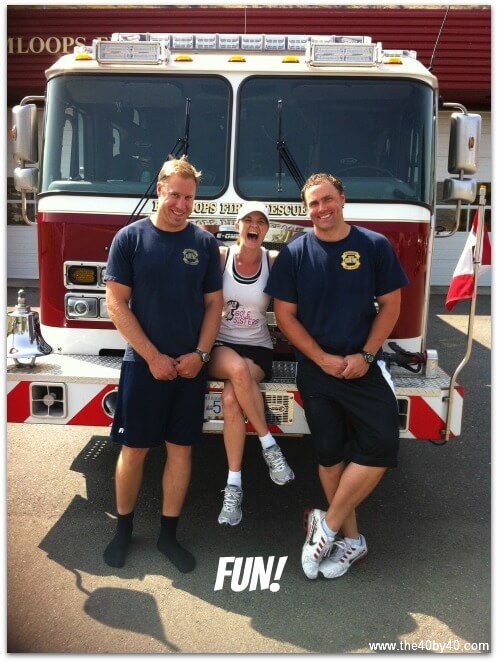 Well, I want you to know that you can always find some FUN despite anxiety and fear.
You can always find LOVE and GRATITUDE, KINDNESS and BLESSINGS despite sadness and tears.
With an OPEN HEART, you may be surprised at how COLOURFUL, GENEROUS and KIND people are in the world.
As Nat King Cole sang in Nature Boy (one of my favorite songs):
The greatest thing you'll ever learn…is just to love…and be loved in return.
I have such a HAPPY, GRATEFUL HEART towards my friends and family for sharing their LOVE and KINDNESS and helping me out in need.
Thanks Valleyview Fire Department for indulging me in my silliness. You brought a smile to my face and gave me a great story…I'd love to return the favour.
With a smile and gratitude,
Tina