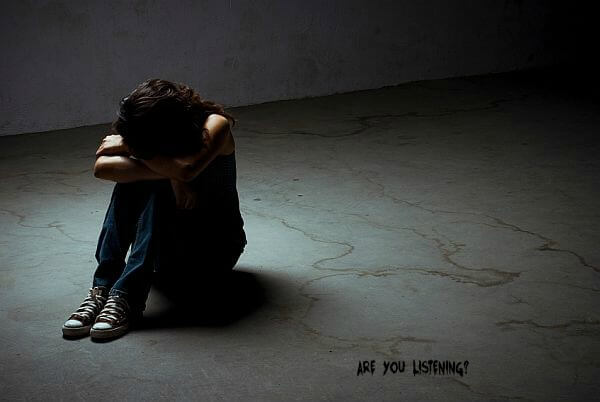 I DID NOT WRITE THE FOLLOWING BLOG. IT IS AN ANONYMOUS LETTER I RECEIVED AND HAVE BEEN GRANTED PERMISSION TO SHARE. I HAVE HIGHLIGHTED CERTAIN PARTS BECAUSE I WANT THEM TO PENETRATE YOUR HEART AS MUCH AS IT DID MINE.
I am writing the following, as I am unable to make it down to Jog4Joy. I personally want to thank you for reading this letter. I poured my heart and soul into this, and I believe that people like you will change things, and raise awareness about mental health.

For the purpose of this letter I will go by Cas. I am twenty years young, currently working two jobs and attending university in Kamloops. I am surrounded by many great friends, family, as well as peers. However, I suffer from depression.

To put it in layman's terms, depression sucks. If I could sprinkle some magic fairy dust to make it go away, I would. However, it's just the fact of life. Some days I don't feel like getting out of bed, and sometimes I even cancel plans with friends because I don't wish to pretend to be happy when I'm truly not. Some days it would be difficult to even function, like I wanted to do nothing anymore. It got to the point where I even had a D.O.D, a "Date of Death" as I told a counselor one session. I even lost interest in drawing, which was one of my favourite things to do, and don't even enjoy some of the little things in life. I have tried several different medications over the past two years, but alas none of them worked.

Because of the whole stigma still attached to mental health, it has been difficult for me to come out as being depressed. It's because people don't realize that you can't just "suck it up". Even though close family and friends know that I suffer, I don't feel like other people, like other friends, school, or even work will understand that I do suffer from mental health problems and sometimes I will have really dark days. I won't let people that know I suffer from depression, know that I have a bad day, even my parents. People know me as happy Cas and Cas that will try to cheer up others when they are feeling sad, not depressed Cas that sometimes feels like ending everything somedays.

When thinking of what to write in this letter, I came across a disturbing fact about suicidal rates in Canada. Suicide accounts for 24% of all deaths among 15-24 year olds and 16% among 16-44 year olds. I suffer from suicidal ideations, so this concerns me greatly. Mental health is something that needs to be discussed, so these numbers can come down.

What I hope you do on October 14th at Jog4Joy is raise awareness about mental health. Even though I'm depressed and slowly getting better, there are others like me that suffer because they feel like there is still a huge stigma attached to mental health. Mental health isn't something that affects a certain age, race, culture, and social standing. No, mental health can affect anyone in their lifetime. Some people suffer for a short period of time, others for longer. We need to take a stand and let it be known that we are not doing this alone, and that there are people out there that are standing with us to help us through our difficult times.

I read this quote by a man named Stephen Fry, who is a British actor who suffers from bipolar disorder. Even though he talks about depression in the following quote, I believe it can be applied to any mental health: bipolar, anxiety, schizophrenia… You name it.

"If you know someone who's depressed, please resolve never to ask them why. Depression isn't a straightforward response to a bad situation; depression just is, like the weather. Try to understand the blackness, lethargy, hopelessness, and loneliness they're going through. Be there for them when they come through the other side. It's hard to be a friend to someone who's depressed, but it is one of the kindest, noblest, and best things you will ever do."

Thank you from the bottom of my heart for reading this, it means a lot to me for an individual like you to make a difference, and help bring awareness to mental health.
This is real. This is life for those suffering with depression and mental health issues. Please be a VOICE for "Cas" and other's like "Cas". TOGETHER we can help those who have set a "Date Of Death"…
I don't know about you but that rocks me to my core and I want to do whatever I can to give HOPE to those who feel this is the only option.
PLEASE DON'T LOOK AWAY, REGISTER TODAY.
From my heart, to yours…thank you.
With love and compassion,
Tina