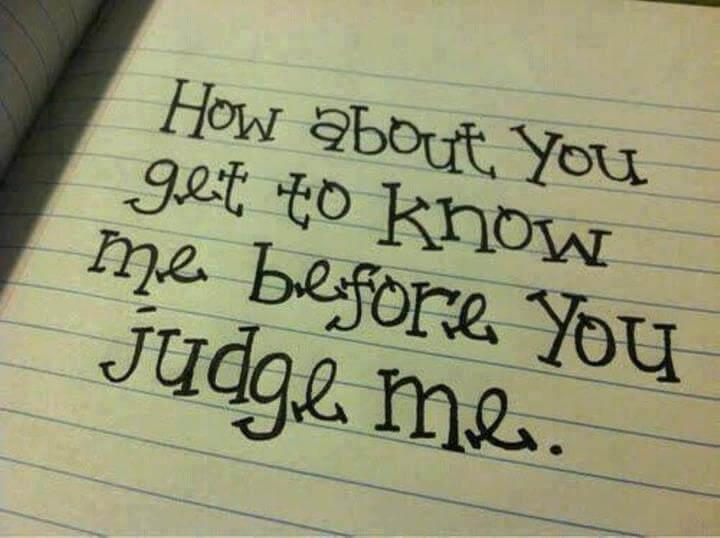 Last week I challenged myself by meeting with a woman whom I didn't think I liked.
Life is funny. I mentioned to a friend, this woman was one person I really didn't want to run into and the very next day she entered my life again after not seeing her in years. We used to work together and at that time I was influenced by a certain person and his opinions of others. I didn't know if my negative thoughts about her were based on how I felt or how he felt.
The TRUTH is I didn't know her and I never did so I decided to meet with her to form my own opinion.
This is what I learned:
She made incredible SACRIFICES for her son to ensure their relationship is strong before he graduates. This meant changing jobs so she was more available to him physically and emotionally. It affected her life financially but as she spoke, it was clear that the money was secondary to the relationship she's built with her son as a result of her DECISION.
He wanted a Mom that wasn't stressed out and had time for him. She LISTENED to his needs and took ACTION.
She went back to school and got her Masters.
She's traveled to almost every continent with her son…something she wanted to do before he graduated.
She was single for a long time and decided if love wasn't for her, she was okay on her own. She refused to lower her standards. (I love that!) Things shifted and she met a wonderful man that clearly makes her heart smile.
We had a great chat about love, family, friends, jobs, dating and personal struggles. We laughed a lot and our emotions got the best of us at times as we spoke about people we loved.
I was honest with her.
I told her my opinion had been tainted and I was so grateful we met so I could connect with her from a REAL and AUTHENTIC place instead of a past and convoluted perception.
I left that night with such RESPECT for her and the CHOICES she's made in her life. She is no doubt a strong woman with clear goals. She is driven and knows what she wants. She is also kind hearted, open, loving and cares deeply for the people in her life.
Perhaps there were things in the past that I didn't agree with when I worked with her; honestly, I don't remember…it's in the past and I know I've changed since then so maybe she has as well.
Life is short. Time is precious. Everyone has a story if you pause and listen. We all make mistakes, face challenges and learn our lessons. None of us are perfect and by practising compassion and empathy we can meet in the middle and build a connection that's real. Feed the TRUTH and starve the impressions, misconceptions, judgements and lies. I'm sure glad I made that conscious choice.
With a smile,
Tina