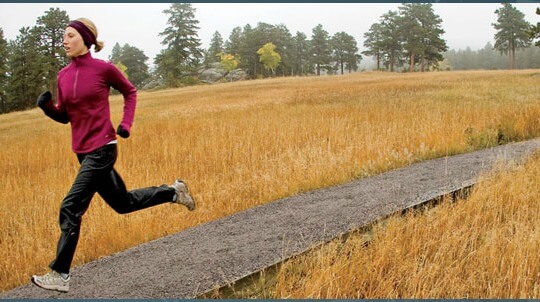 You've been training hard.
You've been getting up early on mornings you'd rather sleep.
You put on your runners and force yourself out the door.
You've been stretching and making sure you are balancing workouts with rest.
You watch what kind of fuel you put into your body and drink lots of water.
You focused on core strength and added cross training into your routine.
You've been speed training and extending your distance.
YOU HAVE WORKED VERY HARD TO ACHIEVE YOUR FITNESS GOAL.
With all this work, it's very unsettling to have days of stress and anxiety where you feel like you're never going to make it.
I understand race anxiety. I experienced it for both the 40k I ran on my 40th birthday and my full marathon on my 42nd birthday. I had moments where I did not think I was physically ready. I doubted my ability to run that far…I doubted whether I'd done enough training…I simply became consumed with DOUBTS, FEARS, and NEGATIVE THINKING. Ultimately it serves no purpose other than creating chaos and sabotaging your hard work.
Being mindful of your thoughts is crucial in achieving your goals.
This means filling your mind with POSITIVE, GOAL ACHIEVING THOUGHTS.
It's about visualizing the end result.
Your brain has much more POWER and control over your fitness goal than you may realize…you need to train your brain.
This is what worked for me:
Write down exactly how you want to feel the day of the event.
Write down how you want your body to respond to the distance you are running. (This is where I insert my motto: I feel good. I feel strong.)
Write down what kind of weather you'd like to have.
How you feel as people are cheering for you.
Write down what they'll say!
Write down how you'll feel when you cross that finish line, ACHIEVING YOUR GOAL!!
Write down all the POSITIVE, NURTURING, INSPIRING and MOTIVATING things you can possibly think that you want to experience on the actual race day. If you need to feel calm, write that down. If you need to feel strong, focused and determined, write that down.
FILL YOUR BRAIN WITH WHAT YOU WANT, NOT WHAT YOU DON'T WANT (Positive in, negative out)
THIS IS YOUR GOAL.
YOU HAVE CONTROL OF WHAT THOUGHTS ARE IN YOUR HEAD.
I believe you can achieve whatever you think you can.
Train hard + positive thoughts = achieving your goal
With a smile,
Tina