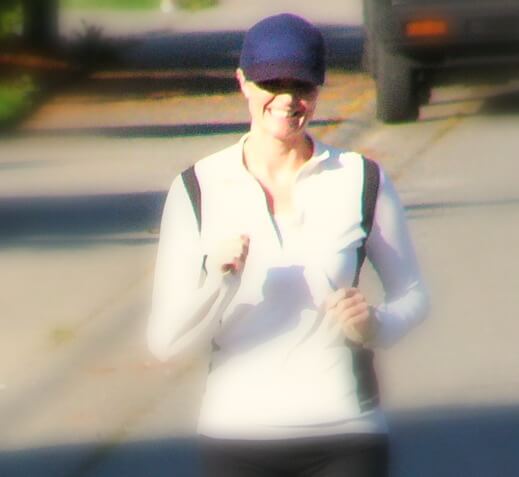 Tina's Beautiful Moment:
Starbucks $3.25, four beautiful firemen in front of me ordering their coffees? PRICELESS
Happy Happy Joy Joy:
My running buddies are coming down in March to visit…I am so excited!
Song Stuck In My Head During My Long Jog:
(Martina McBride – Happy Girl)
Oh watch me go
I'm a happy girl
Everybody knows
That the sweetest thing that you'll ever see
In the whole wide world
Is a happy girl
Tina's Favorite Number:
17! And today it's Jog Blog 17, on February 17th! It's a good day.
February 10, 2011 – HILL TRAINING (85% pace for 2 min, repeat 5x)
I was suppose to cross train today but decided to run some hills. It was a good workout. I really pushed it and felt strong. The new shoes are good. Thank you LadySport!
February 11, 2011 – RUN 18K (Jog 10 min / walk 1 min)
I jogged 10 miles today at a 10 minute mile pace or faster. That equals 16K, so not the 18K I had planned. I miscalculated the distance. It was a good jog though. I stopped midway to do some stretches as my left glute started to bother me. In the past when I started running longer jogs I had to go to massage, so I have one booked on Wednesday at Ocean Wellness with Kathryn Gaudet. I'm super excited because we are both running the same marathon with a specific time in mind.
February 12, 2011 CROSS TRAIN
I am finding the exercises difficult today. Not able to keep my balance or just not being as strong as I'd like. My muscles are feeling tight even though I've been stretching. I don't feel pain, but I feel like my muscles are holding me in as opposed to being more fluid.
February 13, 2011 – REST
February 14, 2011 – EASY ½ HOUR JOG
I didn't keep to my run ten minutes walk one minute regime today. I decided to do a five minute warm up and then jog fifteen minutes, walk one minute and jog another fifteen minutes with another five minute cool down. It was a great little jog.
February 15, 2011 – CROSS TRAIN
I was far more fluid in my movements and felt stronger today. I feel great!
February 16, 2011 – OFF
Ug, my schedule is brutal right now trying to get everything done before I leave. It's a challenge. My plan is to do hill training AND distance tomorrow. I have to get them in before I leave, so will be juggling schedules.
I had a massage today with Kathryn and it was fantastic. It's great because she's also a runner doing the same marathon in October so she knows what specific muscles get tight on joggers. We had lots to talk about. I asked her how she got started in running and it was due to her Mom.
I love this:
Her Mom just turned 60 and recently completed a half marathon in 2:20! She's lost 70lbs and inspired her kids to get moving! I hope to talk to her and learn more about her story because I am very inspired. She is proof that you can start at any time.
Although I will be away next week, the blogs will still be posted, as always. Come back next Tuesday because I've got some fun and inspiring blogs to share. Please continue to send me messages; I love connecting with you!
A special note to my trainer and friend, Jody Kennett from Leapfit: GOOD LUCK ON YOUR HALF MARATHON! I'LL BE CHEERING YOU ON!