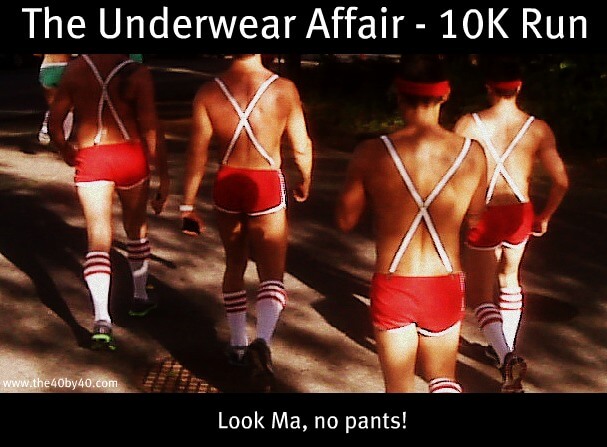 Tina's Next Scheduled Run:
Diva on the Run! It's a 5K /10K run and Ladysport is part of hosting this awesome event for arthritis. I will be running with dear friends and we get a feather boa at the end. Love it!
Buzz Off!
I planned on running 9K in the morning and 10K for the Underwear Affair on Saturday. My plans got changed when a bee got stuck underneath the tongue of my runner and stung me right where my ankle bends. It hurt! No morning run for me…
THANK YOU x 2000:
Because of your donations, Jody and I raised over $2,000 for the Underwear Affair 5K walk/10K run event. At The Crossroads Blues Radio was my highest donation so here is the photo they get in honour of that donation. THANKS AT THE CROSSROADS!
The Underwear Affair Results:
The foundation received over $600,000 for cancers below the belt and over a thousand people ran in their underwear/lingerie/ costumes through Granville Island, past Science World, through Yaletown and over Burrard Street Bridge.
Personal "Firsts" – Training Tips Based On My Experience:
It was great to wake up Saturday and know I was going to laugh. And laugh we did…at ourselves…at each other. It was a hoot! You know the phrase, "There's a first for everything" well here is my list based on this run:
1. Wearing full makeup, jewellery and perfume while running.
2. Wearing glitter…
3. Wearing a push-up bra! (Do not recommend this as my poor breasts were killing me!)
4. Wearing lingerie…I was tame compared to some and daring compared to others. Standing in lingerie is one thing…RUNNING in lingerie is a totally different thing.
5. My personal best time for a 10K. Jody kept saying, "You have a good pace" and I kept saying, "I want to get this over with!" Time: 1:03 (In a push-up bra and lingerie I might add!)
6. Wearing lingerie and RUNNERS…not my usual footwear when wearing lingerie…
7. Night time run – I usually run in the morning so planning my meals was a new experience for me with this run.
8. I got a phone number! Yup, someone left their phone number on my car…I suppose the guess work is out once you've seen someone running in lingerie. Do you think I called? Hmmm…
9. Running behind cute boys in red underpants…yes, it was a difficult run but someone had to do it! (She says with a smile)
10. Drinking beer afterwards. Celebrating with a bunch of other lingerie and underwear clad people who are sweating from running 10K or walking 5K in the heat…a little weird, but really fun.
Despite difficult times, it's important to LAUGH. Find the experiences and people who bring out LAUGHTER in your life and create those moments…EMBRACE THOSE MOMENTS.
Laughter and not taking yourself too seriously is good for the soul/sole!
See you on Tuesday!
With a smile,
Tina