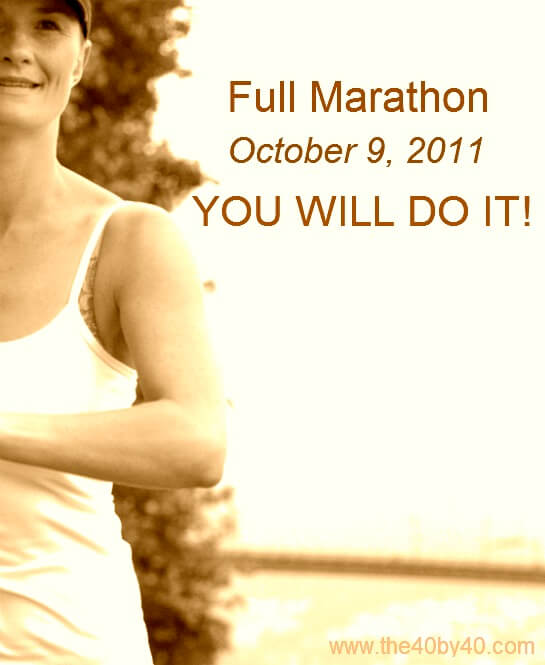 Run Like A Diva!
LadySport is involved in this FUN RUN for arthritis. It's a new route for me and I'm excited to discover another beautiful trail in this beautiful city. Let's hope it doesn't rain…Diva's don't want to wear soggy feather boas!
If You Walk Into My Bedroom…
You'll see a sign that says FULL MARATHON – 42K – October 9, 2011 – 42by42 – YOU WILL DO IT! I look at that sign every day, a great motivator to get me out the door when I am doing a lot of this training on my own.
Word's Of Wisdom From A Five Year Old:
"Don't you just love when you're walking with somebody and you open your mouth to say something and a gentle breeze blows in your mouth? What a great feeling. I love you Mom." (My cousin's 5 year old son)
FIGHT LIKE A GIRL!
Good luck to the women in Fort Saskatchewan and all the amazing people who are walking for "End Women's Cancer" this weekend. For that walk, these exceptional women have raised over $9,000!! Way to go ladies! THANK YOU for your incredible dedication to this cause!
Things I Was Told To Try That Didn't Work For Me – Training Tips Based On My Experience:
1. Eat fast food the night before a big run. I don't eat fast food but when this person told me a story about an Olympian athlete eating junk food and then winning her race the next day I had to try it. Let me tell you, I felt so disgusting and sluggish afterwards! It took me a couple days to recover. I would NOT recommend this.
2. "Why do you have to finish? There's no one holding a gun to your head." This was well meaning advice but for me, it's important to follow through! Working towards a goal is meaningless if you give up. The self-esteem and confidence you get from working hard, challenging yourself and succeeding is a powerful energy. Finishing is important. (This does not count if you have an injury, that should take precedent over the race as you want to run for LIFE)
3. "You're not a real runner if you walk." Really? Well Mr. Smartie Pants, I disagree with you. In fact, I'm a much better runner because I walk and I have saved myself injury. Walking is not for the weak; it is for the smart.
Having a POSITIVE outlook on negative situations isn't about denial but rather a shift in energy. Saying THANK YOU and being GRATEFUL is one way to make that shift. Thank you for sharing Tuesday's blog and making that small change in your life.
Have a wonderful weekend and I'll see you on Tuesday!
With a smile,
Tina