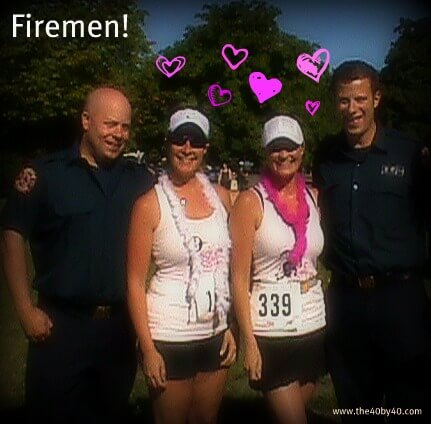 Favorite Quote Of The Week:
If I knew there was going to be firemen, I would have worn mascara!
What NOT To Eat The Night Before A Run:
Cherries
Tina's New Jogging Accessory:
Glitter!
Tina's NEXT RUN:
Goodlife Fitness Marathon/Half Marathon on October 9, 2011 in beautiful Victoria, BC. I am very EXCITED to have my friends and family coming from Edmonton and my Soul Sisters from Kamloops. It's going to be an awesome day! You can still join the FUN! Click HERE for more information!
Why I LOVED The Diva Run – Training Tips Based On My Experience:
1. I thought the Diva on the Run was an excellent choice for new runners or runners who are trying to challenge themselves with personal best times. Every single runner whether you were first or last was announced as you crossed the finish line, so it's a very supportive and encouraging event.
2. As you first walk to the event someone greets you with a big smile and a container of glitter. I loved it and thought it was FUN.
3. There's plenty of parking right where you start and finish the event.
4. It was a beautiful route mostly on trails. It was a lovely combination of trails, trees, and ocean.
5. There were lots of HAPPY volunteers to cheer us on and guide us so we stayed on route.
6. This was my favourite part: FIREMEN IN UNIFORMS put a feather boa around your neck when you cross the finish line! If I would have known that I might have worn what I wore to the Underwear Affair! Haha
7. My second favourite part: The food afterwards was great. There were whole bananas (not cut up brown ones), Gatorade, bottles of cold water, Greek yogurt (full of protein), Hippy Chips and granola bars. A good selection.
8. They also had lots of prizes! It was a great run for all different age groups and it wasn't too big so you didn't get lost in the crowd. It's a lovely group of WOMEN who SUPPORT each other in their running goals.
A special THANK YOU to LadySport. They helped put on a great event. You can enter one run or there is a series of three so you can fundraise all year. This is a great run to do with friends. I ran with a friend who is relatively new to jogging so it was a good event for her. My other friends from Kamloops also came and it was so much FUN to see them. Jogging brings people together…such a BLESSING.
This weekend I'll be facing some REALLY BIG FEARS so I'll definitely be telling you about that next week. Just thinking about it makes my stomach go flip-flop. I must listen to my INSTINCT, be BRAVE and TRUST…oh, and breathe…I must remember to BREATHE…
Have a fabulous weekend. I wish you nothing but sunshine, laughter and love. Make a happy memory this weekend and cherish it, life is too short and too unpredictable to take for granted.
See you on Tuesday!
With a smile,
Tina