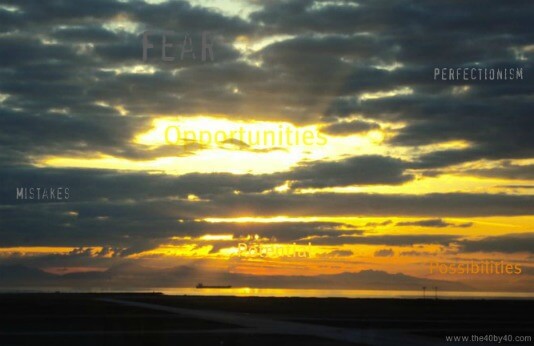 I work with singers and they are often the most severe perfectionists.
As a singer, your body is your instrument so judging or criticizing your voice only causes tension creating physical obstacles that could be avoided. Being so fearful about making a mistake stops singers from allowing their voice to be heard. Perfectionism limits their abilities and the fear of making a mistake limits their progress.
We've been told:
"Learn from your mistakes."
BUT HOW MANY OF YOU STOP YOURSELF BEFORE YOU EVEN GET THE CHANCE TO MAKE A MISTAKE?
That's an interesting question isn't it? What happens when you avoid mistakes by never trying in the first place? Sadly, NOTHING.
"The biggest mistake you can make in life is to continually FEAR you will make one." ~ Ebert Hubbard
If you don't allow yourself to make mistakes by never starting to begin with, that is called:
F E A R
It can be disguised in a thousand ways: Excuses, procrastination, perfection, lack of time or energy, no experience, money, education or help.
Ultimately there will always be a reason to not go forward, but recognizing that FEAR is the negative force that keeps your excuses and procrastination alive, gives you the insight to push through the negativity.
I recently watched a program with Jane Fonda and she says:
"Know thine enemy."
FEAR is your enemy.
If FEAR is stopping you from applying for that job, accepting love in your life or shining your light then you need to know every detail of that enemy.
What are you fearful of?
What scares you to start the thing that you are passionate about?
I grew up with FEAR and allowed it to dominate my life for too many years. At that time, it was louder than my INSTINCT so it created ANXIETY, DEPRESSION and PANIC ATTACKS. It surrounded me with negative influences and supported self sabotaging behaviour. It kept me thinking like a victim instead of a victor.
Today, no matter how scared I am, I will push forward. Why? Because FEAR IS LIMITING and I don't want to live a limited life.
This applies to love, career, friendships, adventures and opportunities.
Instead of not beginning because I fear making a mistake, I will try, falter, fall down, look ridiculous even but understand it's in the getting up and trying again that wisdom, strength, and new opportunities are gained.
Just like in music, sometimes it's the mistakes that create a beautiful melody because it's not what you intended.
Today I encourage you to make some mistakes. Challenge yourself in an area that scares you.
BEGIN WHAT YOU ARE AFRAID TO DO.
With a smile,
Tina