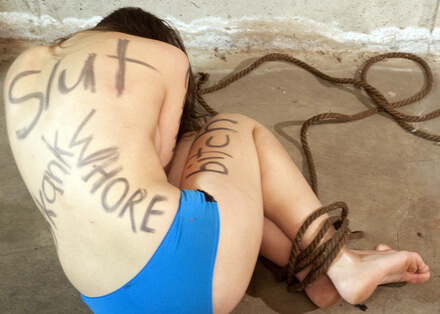 SLUT. WHORE. SKANK. BITCH.
Amanda Todd got called a SLUT and she began to believe it…sadly she is one of too many teens and young women who had to try and deal with it or are currently dealing with the harshness of that word.
I get so sad when I hear teens refer to themselves or others as SLUTS or WHORES…I get angry when I hear adults use the same terms. It's like the value of the person drops by the number of people she has been with in a sexual way…and she may not have even been with anyone but it's a way to SHATTER HER SENSE OF SELF AND DEMORALIZE HER.
In the dictionary SLUT is defined as a sexually immoral woman, a slovenly woman…funny that I can't find a word for a man that describes the same thing…"dirty old man" does not have the MALICE that the word SLUT has towards women.
I think back to my teen and young adult years and I remember for a long time thinking I was a SLUT. I was called a SLUT and I believed it. It seeped into my core belief system and I invested in the NEGATIVE, ABUSIVE and incredible MALICIOUSNESS behind the word.
Today I have COMPASSION for that young girl…that lost woman. I don't see her as the described definition. No, I see the following:
S – Suffering, sad, shamed, scared, silent

L – Lost, lonely, loveless, less-than

U – Undervalued, unloved, unworthy, ugly, unnoticed, unheard, unsafe

T – Traumatized, troubled, tormented, teased, taken, trained, timid, tragic
Next time you go to pass judgements and think of calling yourself or any other female a SLUT think of that definition instead. Think of a SLUT as someone whose VALUE and WORTH as a person is Shot down, Limited, Unappreciated and Tossed aside.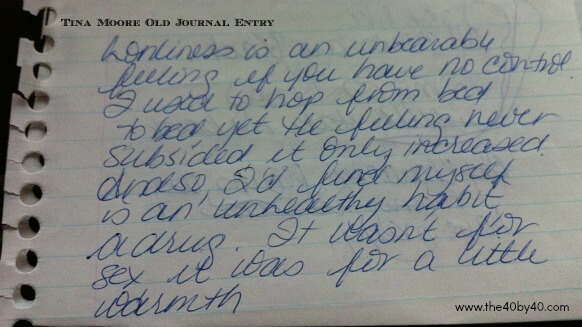 To have sex with someone because you are desperate for love and acceptance…companionship…to feel attractive, pretty, beautiful and wanted…to FEEL something…anything other than that deep emptiness or pain even though hopping from one bed to the next can make you feel cold, ashamed and used…THIS DOES NOT MAKE YOU A SLUT OR A WHORE. (As described by the dictionary or the common use of the word)
In that situation you don't understand your true VALUE and WORTH as a person. You don't understand the meaning of SELF RESPECT and SELF LOVE probably because you were never taught. You are searching for others to validate who you are instead of validating yourSELF.
You are lost and looking at others to find you.
You are a BEAUTIFUL person who does not see your VALUE and you give it away too easily because you do not know what it is worth.
YOU do not know what YOU are WORTH.
This is also something I wrote when I was in my early 20′s…I share it with you because I think it suits what I'm talking about today.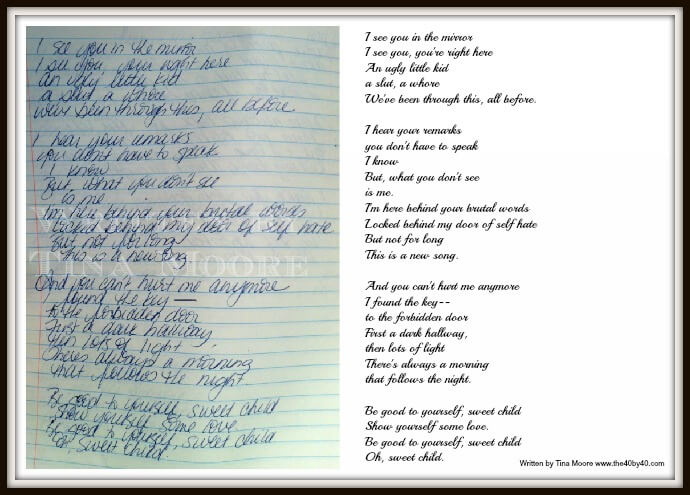 "Be good to yourself sweet child. Show yourself some love. Be good to yourself sweet child, oh sweet child."
If I could give you one gift today, it would be for you to look deep inside your own eyes and see the beautiful person that exists inside.
HONOUR HER. LOVE HER. RESPECT HER.
With a smile and compassion,
Tina