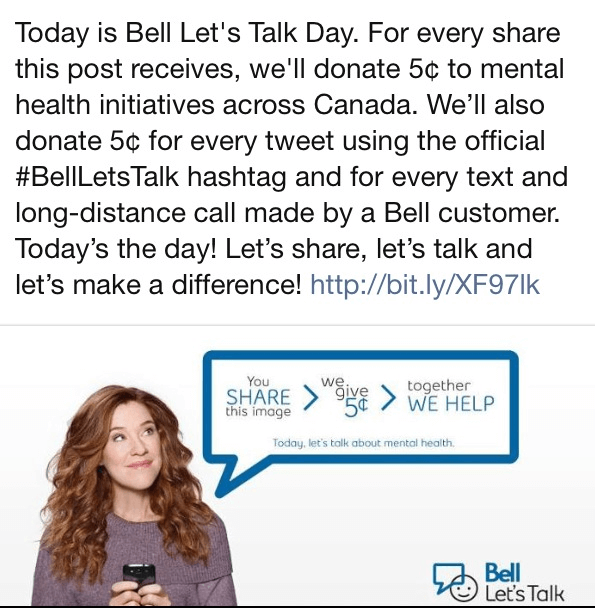 Today is "Let's Talk Day" an initiative put together by BELL CANADA. For every official Bell Canada posting that is shared on Facebook (photo above was taken from FB), every tweet with the hash tag #BellLetsTalk and every text or long distance call made by a Bell customer, 5 cents will be donated to mental health initiatives across Canada.
Not only will FUNDING go towards mental health initiatives but people will be TALKING.
MENTAL AND EMOTIONAL WELLNESS MUST BE A PRIORITY IN OUR FAMILY, JOBS, SCHOOLS, PROVINCE AND COUNTRY.
I spent the weekend talking but mostly LISTENING, SUPPORTING and LOVING many people who are struggling with their mental health.
Here are some common phrases I heard throughout the weekend:
I don't feel VALIDATED.

I don't feel like anyone is LISTENING.

I don't feel like anyone really UNDERSTANDS how I feel or what I'm going through…they look at me like I'm crazy.

I feel ALONE.

I always feel like I have to PRETEND to be happy in order to make everyone around me feel better. I don't want to upset other people or make them sad.

I'm EXHAUSTED.

I feel like I'm being JUDGED all the time.

I don't have any ENERGY.

I feel so much PRESSURE to work harder, be stronger and quit being 'ungrateful', 'lazy' or 'spoiled'.

The EXPECTATION is that I should be better by now so I pretend I am better to make them feel better…sometimes that makes me feel WORSE.

I CRY ALL THE TIME, OVER NOTHING. WHAT'S WRONG WITH ME?

I never cry…I just feel NUMB.

I can't CONCENTRATE.

I just want to be 'NORMAL'.
I spent lots of TIME with these individuals who BRAVELY SHARED their FEELINGS, THOUGHTS and FRUSTRATIONS. Each story was unique to them and yet similar to others I had spoken to earlier.
I love Bell's "Let's Talk" initiative. Speaking up, speaking out, LISTENING, being heard and validated are crucial steps to mental and emotional wellness because so many people suffer in silence.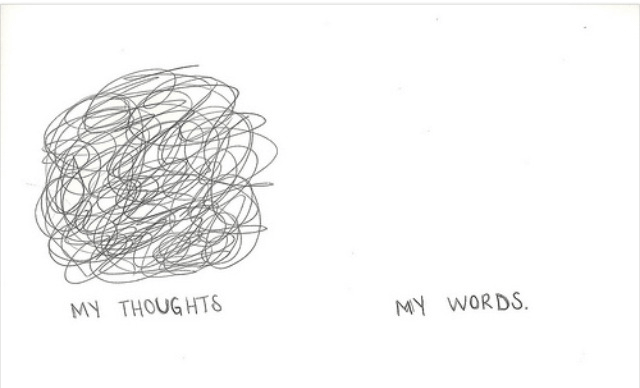 As the person struggling with mental health issues, it's important to have a SAFE environment to speak out and receive the necessary help. This may include EMOTIONAL SUPPORT and UNDERSTANDING, MEDICATION, COUNSELLING and a HEALTHY LIFESTYLE which includes PROPER NUTRITION, EXERCISE and MEDITATION. (In my opinion, all these things are part of the recipe for good mental and emotional wellness.)
As the person supporting someone who struggles, LISTENING, VALIDATING, EDUCATING YOURSELF and HONORING EMOTIONS are important. Creating a support system around you is crucial to keep your own balance and energy. Learning about the mental health issues (signs, symptoms, care options etc.) will give you the tools to support in a healthy, compassionate and educated way.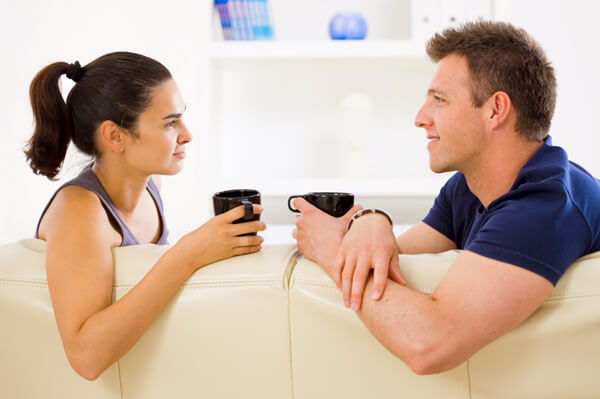 "Let's Talk" today but don't let it stop there…KEEP TALKING…talk to your children, partner, family, friends, employer, medical community, and your government. "Let's Talk" so we can stop the stigma surrounding mental health, raise awareness and create CHANGE.
THANK YOU!
With a smile,
Tina