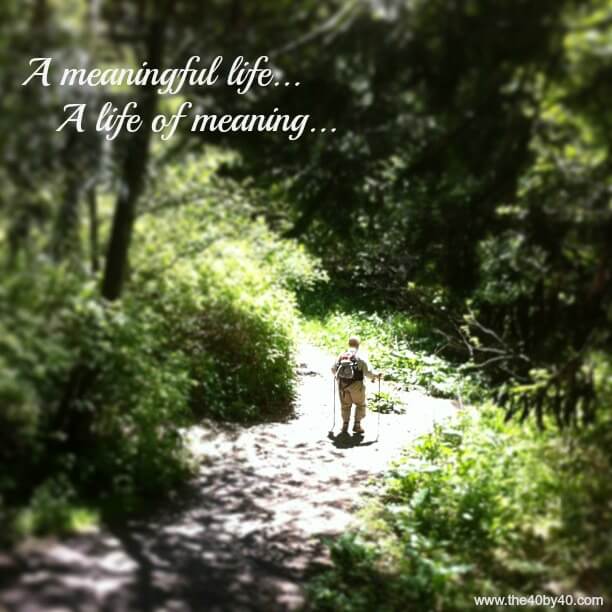 I had some interesting conversations, read some fascinating articles and watched some thought-provoking speeches over the weekend.
One thing that rumbled around my head and tugged at my heart was the topic of purpose…what is your life purpose? What is the purpose of certain events happening in the world today and in the past? It's a big topic and I will only touch on a small part of it.
I think we all want meaning in our life and we want to know our life has meaning.
The question of "What is my life purpose?" has caused me some confusion and grief throughout my lifetime.
I think that happens when you are focusing on what you don't have instead of what you do have in your life.
You are thinking from an EGO standpoint rather than from INSTINCT, which is your inner compass and library of wisdom. Perhaps you have EXPECTATIONS from others or from yourself but they may not be in line with your real purpose so things are difficult as you grind through days, weeks and years.
We all have strengths and weaknesses and we all have the ability to be kind and loving towards others.
I think purpose lies in what we are given and what we possess whether it's a natural born talent or something we've learned through experience or education and then you have a CHOICE of whether you impact the world in a positive or negative way.
For example, I know that I love inspiring others through writing, performing and connecting with people on a heart level. I think I am strong in these areas. I also believe I have deep empathy; I love brainstorming and I get excited assisting others to face their fears and honor a goal that is important to their personal growth.
I believe my purpose is in line with these things I've listed.
I also know I am NOT interested in how my car engine works and I have no desire on how to knit a scarf. I am not passionate about fossils and I don't retain information about sciencific equations or math. I'm okay with that because it's not how I was designed.
It's not my PURPOSE and comparing myself to others who are strong in those areas serves neither myself or the world because it's not honoring who I am and what I can GIVE to YOU!
It's realizing what tools / talents / abilities you possess and then use those to SERVE the world and make it a better place to live.
If that means you are exceptional at crunching numbers or selling shoes then that is VALUABLE to the world because YOU are VALUABLE to the world.
If you are unsure of your attributes, write out a list and ask your friends/family their opinion to help you start. Sometimes another perspective is useful.
Every single person who ever existed and exists today has purpose.
YOU ARE IMPORTANT TO THE WORLD.
YOU HAVE VALUE.
YOU HAVE MEANING.
YOU ARE HERE FOR A REASON.
Downplaying your gifts, talents, skills, intelligence and ideas serves no one. The world needs your positive contribution.
LET YOUR LIGHT SHINE.
With a smile,
Tina