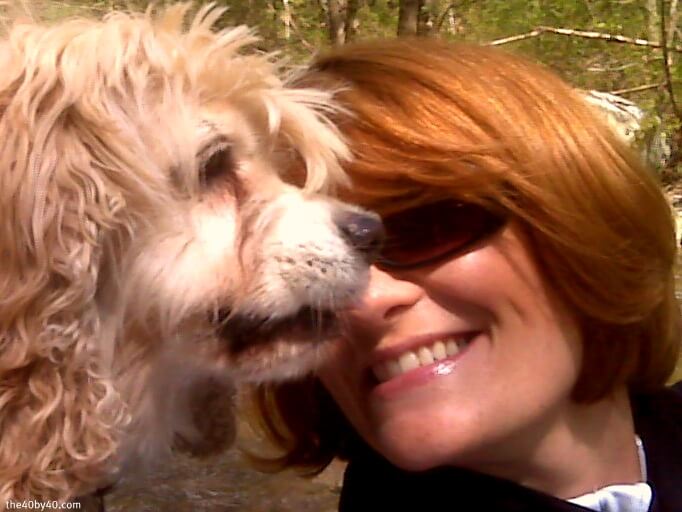 In the photo I look pretty happy, and on most days I am but am I gloriously joyful all the time? No, that wouldn't be reality but I am sustaining happiness whereas in the past it eluded me.
So what does 'SUSTAINING HAPPINESS' mean? And more importantly, what does it mean to YOU?
Since I started jogging and processing my emotions in a healthy way I've been happy but that doesn't mean I haven't curled up in bed and cried about the pain, betrayal and anger from my past relationship. Deep wounds take time to heal.
It also doesn't mean I don't stress about money, which sometimes keeps me awake at night or that I don't worry about my family or friends who are struggling right now…
HOW CAN YOU SUSTAIN HAPPINESS WITH THE STRESS AND PAIN LIFE CAN BRING?
Well, you start by making better choices for yourSELF such as eating healthy, exercising and listening to your instinct…
Begin your day with a moment of peace. I start my day with my journal and my Chai. It's a daily blessing that I love…
Give yourself the time to get fresh air and sunshine, take a hike, walk your dog, go for a jog or meditate. Exercise and nature are deeply healing and a KEY to happiness . If you make this a priority during your week, you will notice positive changes.
Express GRATITUDE for the daily blessings in your life…
Honor your personal goals and take steps towards them daily. (This is really important for me)
Welcome laughter in your daily life. Sometimes I simply watch my dog run down the path; she makes me laugh every time.
SUSTAINING HAPPINESS also involves all the POSSIBILITIES that are before you. When you no longer have a permanent dark cloud hanging above you (toxic relationship or past pain), you are able to see your dreams, goals and aspirations more clearly. Without the dream-stealers in your life and the heaviness they bring to you, you have more energy because you aren't faking your way through the day. You aren't pretending that everything is ok, when it's so profoundly NOT ok.
SUSTAINING HAPPINESS IS BEING AUTHENTIC AND LISTENING TO YOUR INSTINCT.
It's knowing YOU are worthy of a HAPPY LIFE, honest people and that YOU don't have to settle for mediocrity in your relationships, finances, career and surroundings.
SUSTAINING HAPPINESS comes from a genuine interest in improving your life.
Everyday you make a conscious CHOICE to live your life in a way that fulfills you, even in the smallest of details.
I found my happiness by finding mySELF. What step can you make TODAY to feel authentic, joyful, and full of gratitude? What ways can you CONNECT to your INSTINCT? What personal goal have you been ignoring? Why haven't you made YOUR HAPPINESS A PRIORITY? Connecting to your inner voice will lead you to the answers.
Know yourSELF and you will find your JOY.
With a smile,
Tina