Tina's Post Marathon Thought Process:
"Ok, now what?"
That's right; it's time to choose another GOAL.
YAY!
I LOVE GOALS!
It is my experience that if I don't have a goal, I don't have motivation. If I don't have motivation, I am less likely to make jogging a priority. If I don't jog, I'm not HAPPY, and that's just not an option anymore!
So, here is where YOU come into the picture: WHERE SHOULD I RUN NEXT?
After the Victoria Goodlife Fitness Marathon, I am definitely inspired to visit other places to run. I embrace the scenery, people and the experience as a whole. It's a holiday and an accomplishment all in one! LOVE IT!
I would like to run 4 half marathons next year and maybe a couple of 10K runs. I have already experienced the Diva Run, which I LOVED and the Underwear Affair (also great FUN) so those are definitely possibilities.
Here are some other options:
MAY
This is an event with LOTS of community SPIRIT! It's close to Vancouver so I could run and visit my many friends and family in Kamloops. Definitely an option!
BMO Vancouver Marathon and Half Marathon
This is in my home city but I haven't run this particular course. I've been told there is a nasty hill at the end of the run which is an intriguing challenge for me.
JUNE
Scotiabank Vancouver Half Marathon
I've enJOYed this event with my sole sisters for 2 years in a row and I would LOVE to do it again! Sharing this experience with good friends is such a blessing. It's an opportunity for us to get together and shop, laugh, eat, talk, laugh and then run. FUN!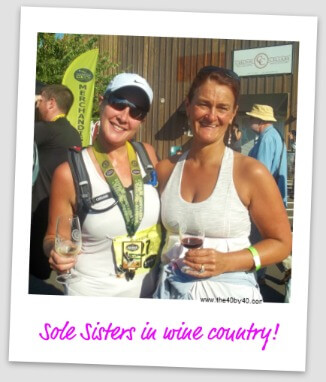 SEPTEMBER
Oregon Wine Country Half Marathon
A couple of my sole sisters went down for this run and had a blast…running, laughing and then celebrating afterwards by sampling wine with other happy joggers. Sounds good to me!
OCTOBER
Nike's Women's Marathon and Half Marathon
This looks like a beautiful run with some challenging hills. You also get a necklace designed by Tiffany's! This race is a little more expensive but would be worth the trip because San Francisco is such a lovely city!
NOVEMBER
Anica Seattle Marathon and Half Marathon
This is also a more difficult event with some hills. The shirts look awesome (I am loving my Victoria Goodlife Fitness shirt!) and the course looks scenic. When I spoke to the representative at the beginning of the month, she said the weather is unpredictable. Planning for rain would be a prerequisite for this run.
IF YOU HAVE ANY SUGGESTIONS, PLEASE SHARE WITH MYSELF AND THE OTHER READERS!
WHERE SHOULD WE GO RUN AND CELEBRATE OUR GOALS? WHERE CAN WE GO TO HAVE SOME FUN!!!
So now you know what FITNESS GOALS I am considering for next year, have you set any GOALS for yourself? A 5K run? 10K event? Half or full marathon? Triathalon?! It's important to have goals during the winter months to keep yourself motivated during the rainy or cold season. If you need some motivation, check out my eBook, "The Decision".
Once you've made your goal I'd love to hear how you are challenging yourself!
Have a HAPPY weekend and SAFE Halloween! See you on Tuesday!
With a smile,
Tina