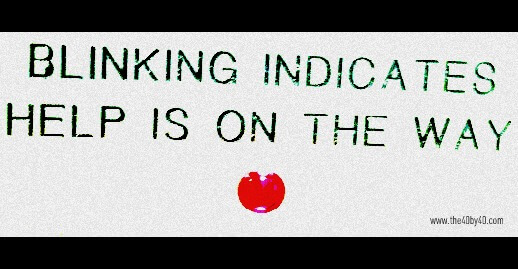 Wouldn't that be great? If we were having a difficult time, we could look to the wall to see the light blinking and say:
"It's ok! Everything will be fine…HELP IS ON THE WAY."
Some turn to God or religion to bring comfort in times of trouble. Others meditate and find that inner peace and quiet by connecting to their breath and calming their thoughts. Some will exert themselves physically through jogging, cycling, or skiing and others will use their artistic expressions such as painting, dance and music to bring peace.
I connect when I am jogging on a regular basis, spend time near the ocean and trees and when I write. I find clarity, peace and strength and hear all the answers to my questions.
Yesterday, I wrote the following in my journal. I believe it is a fundamental truth:
Today is a new day, a new beginning.

Today is an OPPORTUNITY.

Today holds possibilities, choices, chances and options.

Today is not yesterday, a few days ago, last month, a couple years prior or when you were a child.

Today is NOW.

Today is about HONOURING the very essence of who I am and EMBRACING it.

Today is about COURAGE.

It's the courage and strength to move forward despite challenges or fears.

Today is about FORGIVENESS.

I forgive mySELF so I can forgive others.

Today I will LISTEN.

I will listen to my VOICE, my INSTINCT, the loving, nurturing, inner WISDOM that never leads me astray.

Today I will no longer invest in negativity or victimization. I will empower mySELF by thinking and acting in a positive, healthy and respectful manner.

Today is about LIVING AUTHENTICALLY and with INTEGRITY.

Today I look to my dreams as TRUTHS that are forming shape and direction.

Today is a series of choices: I CHOOSE MY THOUGHTS. I CHOOSE MY ACTIONS.

Today is a GIFT.

Today will never happen again so I must live with KINDNESS in my heart. I must share my LOVE and offer HOPE instead of fear or doubt.

Today I realize help isn't on its way…it's already hear. (Yes, I chose that spelling on purpose.)

Today I have all the information I need; I just need to LISTEN.

Today my questions are answered by listening to what's going on inside…inside where my INSTINCT lives, my ESSENCE shines and my LOVE grows.
Today is a GIFT you give yourSELF.
Today is NOW.
I hope you embrace today with LOVE in your heart, GRATITUDE in your smile and TRUTH in your words. Know that the guidance you seek is inside of you.
SEEK YOUR TRUTH AND YOU WILL FIND YOUR JOY.
With a smile,
Tina